The Dow Jones Industrial Average has staged 5 Golden Crosses since 2005, the most recent happened on October 1st of 2010.  For the uninitiated, a Golden Cross is when the 50-day moving average crosses above the 200-day moving average.
Buying Golden Crosses on the Dow and holding for 6 months has worked 74% of the time going back to 1950.  It is a bit more than six months since the Oct 1 Golden Cross, let's look at the last few since 1990 and see how our latest one stacks up…
From Schaeffer's Investment Research: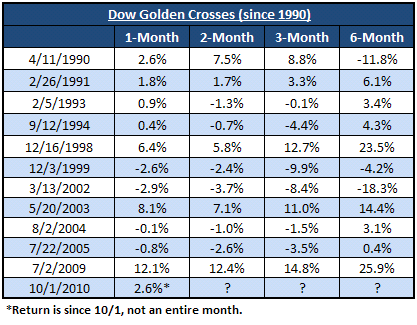 Schaeffer's put this table up in November and hasn't done the calculation work since (that I know of).  I'm pressed for time but the six month performance (Oct 1 through Apr 1) on the DJIA has been about 7%.  Not too shabby.
Source:
Shedding Some Light on the DJIA Golden Cross, By the Numbers (Schaeffer's Investment Research)