There is a particular kind of pressure that exerts itself on the asset management professional in a market like this.  I don't mean the constant pressure of doing a good job for the clients, I mean a heightened pressure to not "look stupid" with the market at an obvious fork in the road.
I wrestle with this every hour of the day, as I know you do if you're serious about your responsibilities.
The S&P 500 has just doubled off its low over the course of two years – the fastest market double since the Great Depression.  We've taken out a key resistance level above 1320 on expanding positive breadth, a near-record number of stocks participating.  Unfortunately, all this goodness is taking place on conspicously light volume – and while our clients watch only price, we the professionals watch volume too.
Now light volume is not a reason to ignore the positives, so we're in.  We're not all in, but most of us are playing right now – some more reluctantly than others.  And we're looking for reassurance.
We're looking for the signposts that allow us to Stay Constructive just in case this thing is really gonna head for new highs this time.
And it's hard as hell when the people are counting on us to get it right.
So we look at this chart from Eddy Elfenbein indicating that, based on a 16 multiple applied to the 2011 S&P 500 earnings estimates, there could be another 17% of upside: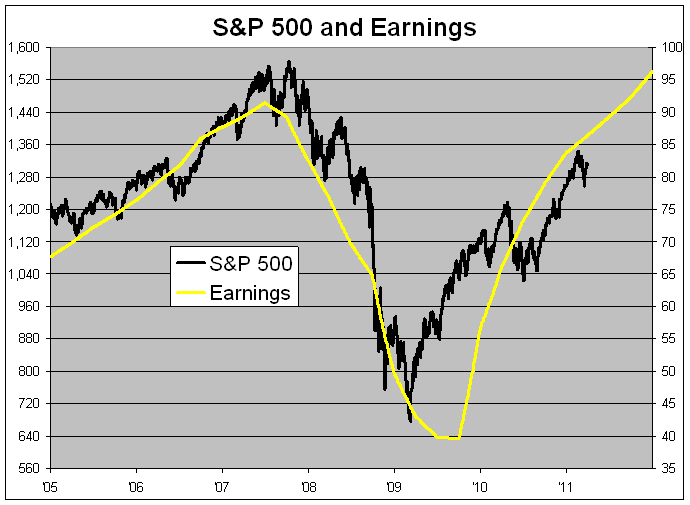 And we take note of the fact that the corporations are becoming true believers.  They are announcing huge acquisitions, finally putting their balance sheets to work.  Fortune notes a Thompson Reuters study this week showing that based on Q1 2011, we're already gaining on 2007's M&A activity – $717 billion this quarter not including this week's eBay buy of GSI Commerce.
Even the insiders are starting to hold onto their stocks after the relentless selling – this according to Zero Hedge.  Corporate insiders have been selling stock at a pace of around half a billion dollars a week…until last week when they sold only $185 million worth.  Wasn't any major event or holiday that I know of, so was it an anomaly or an important signal?
And we look to the strategists that have taken us this far.  Jeff Saut from Raymond James, the Patron Saint of Chief Market Strategists for this cycle, has some constructive thoughts of his own out this week.  Here's a quote Market Folly pulled from his latest missive, take it however you like:
"I think a lot of the price risk has been removed from select stocks and therefore I am not afraid to gradually accumulate favored names."
Saut thinks the mid-March lows were THE lows and if we retest them, he's a buyer of his fave names.  And Saut has been very right for a very long time.
There is also a jobs number Friday that, like all jobs numbers that have come before it, will be an attention-grabber to say the least.  The consensus wants to see a 200k print for private payrolls at a minimum…are we asking too much?  The trend has been good, not great.
Smart strategists, confident corporations and corporate insiders, earnings growth on the horizon, expanding advance/decline list, better private payroll trends – these are the props holding up a constructive market posture.  They are more meaningful than a light volume number or a bump-along-the-bottom Case Shiller index.
We are in stocks, we are weighing and reacting to the evidence.  We just don't want to look stupid as the market makes its decision here.