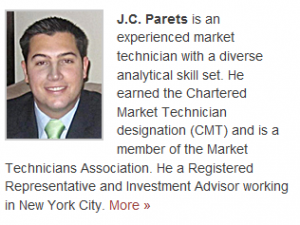 Today is a very special day in Financial Blogland.  My close friend and favorite technical analyst J.C. Parets has finally launched his own blog, All Star Charts.
I first met JC in 2004 as a young, spiky-haired college graduate with a burning desire to manage money and learn to trade.  I taught him to bring in new clients, raise money and manage relationships for his first few years in the business.  He then took the bull by the horns, went out and attained his  Chartered Market Technician designation from the MTA and became a full-fledged master trader in his own right.  JC has repaid me 50-fold over the years with his great market insights and some amazing trading ideas.
I'm proud to say that a great deal of my technical chops and chart knowledge have been learned at the side of his desk.
JC told me in January of 2008 that we were officially in a bear market.  We were sitting at Tequilaville on Vanderbilt and 43rd street at the time crushing a bucket of Dos Equis after an ugly day in the markets.  It took me a few months to come around and agree with him, but he nailed it.  He was also bullish on gold in the 700's, way before it became fashionable.
And now, because the StockTwits Network is awesome, my friend JC has his very own blog.  You guys are gonna freak out, I promise. His site is called All Star Charts, appropriately titled as the kid was also a wicked pitcher in Miami and at Fairfield U.
Welcome to StockTwits, Player.  Welcome to the Financial Blogosphere!
P.S. JC I know I still owe you a steak for that rate hike bet, but since I don't eat red meat anymore hopefully this intro will suffice 🙂