The Wall Street Journal has a helpful story out this morning about the trading in uranium that has gone on since the Japanese Earthquake changed the whole nuclear "story".  Spot prices in this relatively thin market have been completely woodshedded, have a look: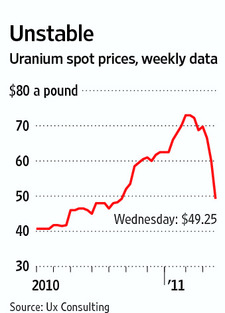 So what's the outlook going forward?  There's a balance to be found between the shelved plans of new-build reactors and the fact that there is already plenty of demand from the existing uranium user base…
Despite the bearish news in recent days, traders note that more than 400 reactors are still operating, consuming about 180 million pounds of uranium a year. The Japanese crisis prompted a drop of about 3% of the total uranium consumption. Nuclear power accounts for 14% of global electricity output, the Nuclear Energy Institute said.

"The world is not going to stop burning uranium tomorrow," said Kevin Smith, director of uranium trading at Traxys Group, a New York-based physical trader and market maker of uranium.
That sounds about right, the story is too muddled for me to want to wade back in and headline risk will surely thwart any consistent upward momentum for the stocks involved.
Source:
Uranium Tumbles On Japan Crisis (WSJ)
Read Also: