Now that we've all celebrated the Inconceivable Rally's second birthday, its time to switch our focus to the what's to come and away from the what already has been.
I asked a handful of the sharpest market bloggers I know to weigh in on the potential headwinds for stocks this year, their valuable opinions (and mine) below…
The Biggest Potential Headwinds for Stocks in 2011:
Robert Sinn (Stock Sage): BRIC tightening leading to slower growth in the emerging markets and the possibility of another round of Eurozone sovereign debt trauma (potential for Ireland/Greece to exit the monetary union).
Vic Scherer (Daytrend): Food + Gasoline + Commodities – Wage inflation.  People will hunker down like in 2008 and in the Carter years (demand destruction).  Yes, I remember… the only period of my working career in which my buying power decreased.
Keith McCullough (Hedgeye): Global Growth Slowing as Global Inflation Accelerates.
Nick (Barbarian Capital): Energy/commodity costs = tax for most; end of QE = rising rates; muni crisis = employment headwinds; technically, a good run (market's doubled in 2 years) = possibly time for consolidation; anecdotally, "regular" people talking about stocks = potential timing indicator.
Joey Fundora (Downtown Trader): the possibility of runaway inflation has to be a concern moving forward. We hit $100 oil towards the tail end of the last bull market cycle and we are already above that level despite the S&P and Dow still trading well off the prior market highs. Commodities are typically a late cycle group but with all the liquidity that was pumped into the system, its possible that the stage has been set for a more violent move higher this time.
Dinosaur Trader (Mixtape): Biggest Headwind for 2011: Political disunity and lack of leadership. The political tone in the US is currently poor and only going to get worse as we head through 2011 towards the 2012 election.
Eddy Elfenbein (Crossing Wall Street): The biggest headwind is that the margin story has run its course. Companies will need to grow their profits by expanding their top lines.
Downtown Josh Brown (TRB): Personally I am more concerned about China's soft landing attempt than anything else.  All the hot money is overweight the Materials ($XLB) and Industrials ($XLI) sectors – if China should stumble, the destruction in those groups could take the whole market down.
DH (Dynamic Hedge): If I have to pick, I'd say energy and food inflation are the biggest risks to the economy and stocks.  The greatest headwind for investor prosperity is healing the persistent negative sentiment, mistrust, and contempt for markets.  It's a shame to see such a large scale asset appreciation with such low participation.
Charles Rotblut (AAII): the fear of potentially higher prices and higher interest rates. If these fears become self-perpetuating or adversely affect spending patterns, they would be a drag on the pace of economic growth.
Michael Bigger (Bigger Capital): An increase in interest rates. One increase is followed by many despite what the Fed says.
Carl Richards (Behavior Gap): Headwinds?  Wait, I was just getting back in now that things look good…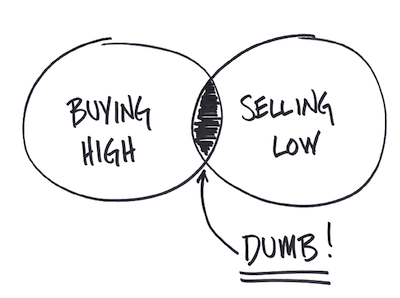 Thanks for sharing guys.  What say you?  What are the headwinds for stocks you are most concerned with?