What does an asset allocator do when there's not a single asset class that looks attractive?  This is a question that is currently nagging virtually every investment management pro I know.
The obvious answer to this question is cash – as unsatisfying as that may be.
In his excellent white paper "The Seven Immutable Laws of Investing", James Montier tackles it in his own inimitable style.  The below  seven year forward forecast for asset classes is the source of Montier's lack of enthusiasm…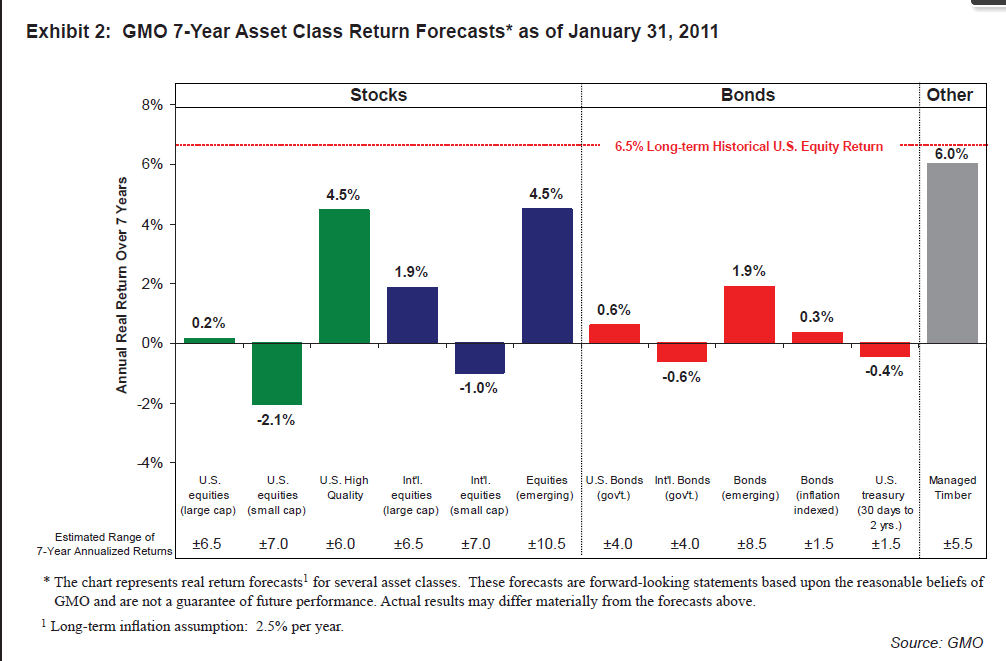 Looking at the inherent potential rewards based on GMO's forecast you see above, Montier says the following
This dearth of assets offering a margin of safety raises a conundrum for the asset allocation professional: what does
one do in a world where nothing is cheap? Personally, I'd seek to raise cash. This is obvious not for its thoroughly
uninspiring near-zero yield, but because it acts as dry powder – a store of value to deploy when the opportunity set
offered by Mr. Market once again becomes more appealing. And this is likely, as long as the emotional pendulum
of investors oscillates between the depths of despair and irrational exuberance as it always has done. Of course, the
timing of these swings remains as nebulous as ever.
If you haven't yet read his entire paper, I highly recommend you get over there to do so today.  You'll have to register with GMO, but you should anyway.
Source: