Yup, your boy Downtown Josh Brown is big in Italy as well.
Here's a profile of your favorite finance blogger, The People's Pundit*, in the pages of Wall Street Italia, Italy's premier business media outlet: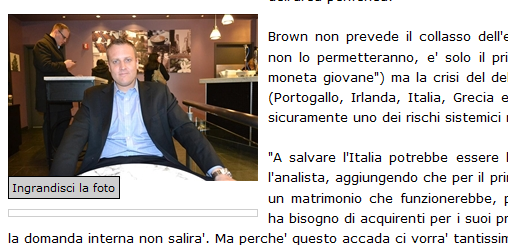 I spoke with reporter Daniele Chicca about the differences between Italy and the other peripheral Euro nations and about why China both fascinates and scares so many investors.  There was also some discussion about whether or not Italy could learn something from China's economy and benefit from selling more to China's burgeoning middle class.
You'll need a translator to read it unless you're fluent in Italian like I am 😉
Source:
"Italia salvata dalla Cina" (Wall Street Italia)
Read Also:
10 Million Portuguese Can't Be Wrong (TRB)
*I'm not sure about "The People's Pundit".  We'll see if it's totally ridiculous or if it ever actually sticks.  Prolly it's just ridiculous.