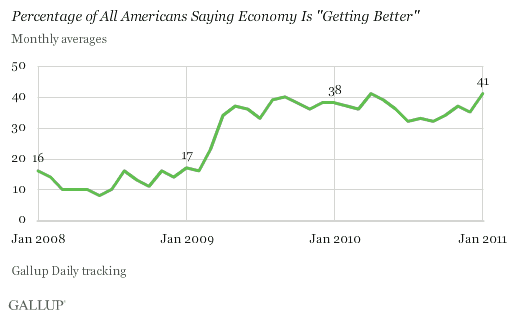 Economic optimism is starting to really make itself felt as the slow-motion disembowelment of the pessimism bubble continues apace.
According to Gallup, your friends and neighbors are now more upbeat about the economy than they have been in 3 years.
Forty-one percent of Americans in January said the economy is "getting better," up from 35% in December and 38% a year ago. This level of optimism ties for the highest since Gallup Daily tracking began in January 2008.
Now don't fall out of your chair or anything…but it seems that the happiest demographics are the young and – wait for it – the wealthy.
Half or more of upper-income Americans (those making at least $90,000 annually), younger Americans (those aged 18 to 29), and Democrats say economic conditions are getting better. This makes them the most optimistic among key demographic groups.

A comparison of January 2011 with January 2010 reveals that upper-income Americans (+7) and those aged 65 years and older (+5) have increased their optimism the most.
I know, imagine that!
Source: