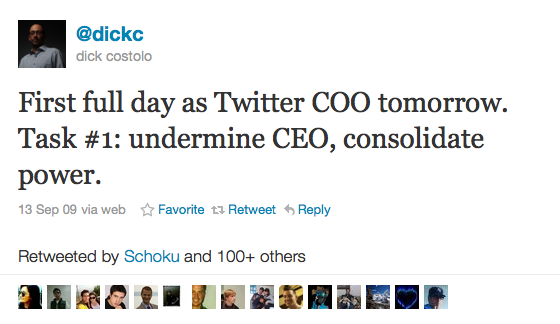 Of all the social media companies Twitter is my favorite and of all the social media CEOs Dick Costolo is by far the most interesting.
Let's keep it real, Facebook's Mark Zuckerberg is as strange a kid as we've ever seen (that bizarre cameo on SNL last night with Jesse Eisenberg just the latest stilted appearance – see it here).
Dick Costolo, on the other hand, is my kind of smartass, the tweet above was his first upon joining Twitter.  He is the subject of a quick LA Times profile today that I want you to read if, like me, you're highly interested in the social web IPO explosion…
By his senior year, he was rocking the open mike in the student union. After graduation, instead of leaping at offers from big computer companies, Costolo decided to improvise — literally. He moved to the home of improv: Chicago…

In 1994 when the Netscape browser debuted, Costolo realized that big things were about to happen on the Internet. He got serious about technology again and pulled off a string of successes, starting and selling three companies — the last one, FeedBurner, to Google Inc. in 2007 for $100 million.
Costolo arrived at Twitter after having sold a couple other tech startups he had founded.  The knock on Costolo and Twitter, by the way, is that he's only there to arrange an eventual sale.  Meanwhile, Costolo rejects that meme and has been hard at work coming up with an advertising gameplan to turn the network's ubiquity into actual profits.
Source:
Twitter CEO Dick Costolo is Determined to Get the Last Laugh (LA Times)
Read Also: