There's the Barron's Bounce and the Barron's Boost.
The Bounce is what we've called it when the magazine has devoted the cover to down-on-their-luck companies with improving fortunes.  Ford is a good example, others over the years have included virtually every major pharmaceutical company as well as legacy tech names like Xerox ($XRX) and Hewlett-Packard ($HPQ).
The Barron's Boost, however, is another animal entirely.  This is when a mid-sized company, one not on the radar of the average investor, is thrust into the spotlight with a bullish writeup.  Two examples of the Barron's Boost are taking place right before your eyes today…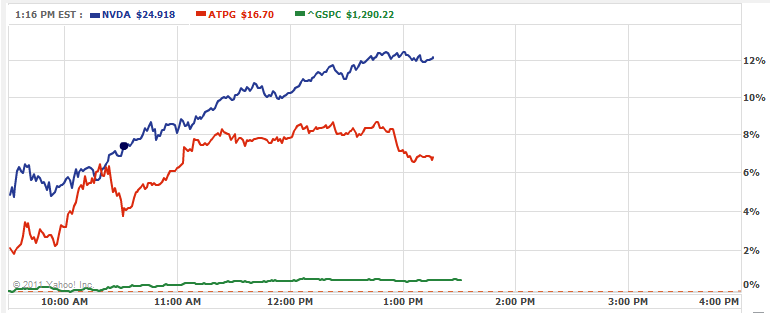 Jay Palmer wrote a piece this weekend, The Next Picture Show, that basically made the case for why Nvidia ($NVDA), even after a huge run, could still be as much as 80% undervalued.  The gist of the story is that in a world of tablet computing, the GPU (graphics chip) is the the new king (as opposed to Intel's CPU chips).  The article was so well-done that I did something I almost never do – I chased the stock at the open and began a position.  It was up 5% at the open but as of this posting it's got a plus-13% day going, so I was fortunate.
The other Barron's boost worth noting is in shares of ATP Oil & Gas ($ATPG).  With no other news to speak of this morning, shares are anywhere from 7% to 8% higher now on the heels of a super-bullish story by Michael Santoli.  His column this weekend, A Well-Timed Dip, went through a rationale for the $3 billion company to be worth something closer to $6 billion.  With energy prices and offshore drilling prospects increasing, people are actively looking for these types of stories.  Santoli found them one.
For a long time, it felt as though Barron's had stopped moving stocks around the way it used to.  I'm happy to report that the Barron's Boost is back and in full effect.  Now if only I had a time machine.
Sources:
The Next Picture Show (Barron's)