The CEO of Google ($GOOG), Eric Schmidt, stepped down last night after ten years at the head of the company.  Many believe he was pushed out as a result of the unchecked ascendancy of Facebook along with the company's missteps in China.  Google sits in front of endless opportunity but has slowed down in terms of decision-making and innovation say those who watch the company closely.
So Larry Page will step back into the CEO role and presumably the company will start being Google again.
This image from TIME Magazine just about says it all.  The boys (founders Page and Brin) are in one of Google's self-driving cars with the now-ousted CEO looking on from the outside.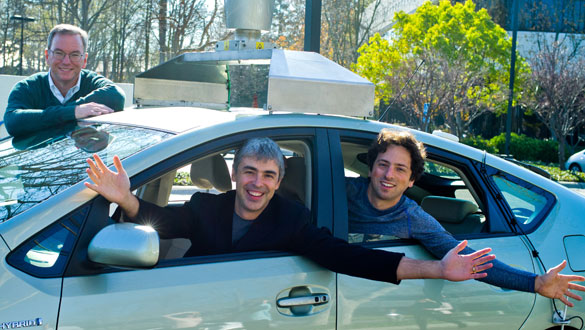 Here are a few good reads on the shakeup…
The Eric Schmidt Era: Google 2001 vs Google 2011.  (TIME)
An Update from the Chairman (Googleblog)
Top 10: The Quotable Eric Schmidt (WSJDigits)