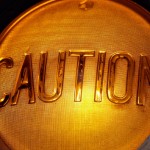 Being bullish and being observant are not mutually exclusive terms.  I've been vocally and publicly bullish on this tape since early fall but in my opinion, there are now yellow lights flashing everywhere.
I write these words not with the intention of offering any advice, but to let you in on my thinking.
In the core model portfolio I run for clients, considered to be a "conservative growth" model, we are now holding around 20% cash.  I can afford to do that in a bull market because there are some very aggressive holdings on the other side of the model.
If the market's going to go up 6.5% a month in perpetuity with zero volatility, then I am woefully underinvested (and should in fact be leveraged).  I do not believe that this will be the case.  I am not merely pontificating about the potential for a correction in Q1, I am actually preparing for one.  To me, a sharp move down at some point soon would be just what the market needs – though I hold very loose convictions as to what the timing, severity and proximate cause of a correction will be.
Technically speaking, the uptrend for the S&P 500 remains intact, breadth is positive as is the rolling boil of new 52 week highs underpinning the action across virtually all industry groups.  Can't hate a tape in which oils and retailers can hold hands and ascend the mountain together.  But there are some anecdotal signs and squishier datapoints that have me concerned.
These include…
Hooray for Web 2.0 (which I'm bullish on) but have things gotten just a bit carried away?  $70 billion for Facebook 15 months ahead of its IPO?  And did the Cheezburger Network (LOLCats, Failpics etc) really just close a $30 million round of funding?  Umm, yes, inexplicably it did.  Frothfail.
Sentiment measures are running extremely hot.  Granted, this has been the case for awhile but at some point, someone's got to blush just a little bit.  For example, the latest Investor's Intelligence survey is at around 58% bullish.  Readings over 50% are considered "extreme", we've been above 50% on this survey since mid-October.
Finally, I'll drag the VIX, a measure of volatility, into this discussion.  If the VIX were a now-grown child star from the 80's, this would be the phase where it would start robbing liquor stores and removing its pants for twenties in strangers' cars – rock bottom.  The VIX just closed at 15.46 on Friday, the lowest level since July 19th 2007.  If that date sounds familiar, it was basically the top of the S&P 500, excluding one last gasp of bullishness in October of that same year before the crash began.
The yellow lights have been flashing for a little while now…but this weekend they began flashing much more brightly and with an increasing urgency to this observer.