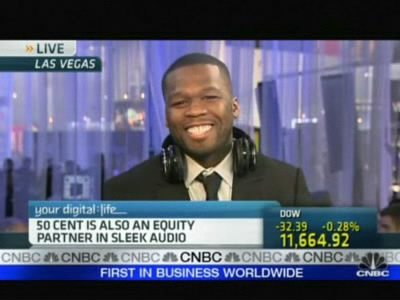 I'm very offended by all the sarcastic commentary surrounding 50 Cent's stock market tips this week.  People are mocking his penny stock pump-and-dump and Facebook valuation thesis as though he has no business talking finance whatsoever.
I beg to differ; I've been reading Mr. Cent's investing books for years.  A few of his classic investing tomes should be picked up before you trade another share of stock:
The Little Book that Murders the Market
Where Are the Customers' Glocks?
Reminiscences of a Crack Operator
A Random Shooting Down Wall Street
The investment insights in these volumes have proven to be bullet-proof over the years.  Literally bullet-proof, as the books themselves have served as shields upon exiting various nightclubs under a hail of gunfire from rival sell-side crews.
He also executive produced the unforgettable Gram N Dodd classic collabo 'Securiteez Analysis, Bitch!' which to this day is required reading for any serious finance course.
Students of economics will not soon forget Fitty's seminal debate with Ja Rule about comparative GDP rate-of-change assumptions.  Yes, the debate ended with him shoving a gun into Professor Rule's mouth,  knocking out most of his teeth, but the lessons from that discussion are still very much a part of the dialog today.
Although 50 Cent has probably violated a handful of securities laws by loading up on a thinly-traded stock and then telling millions of people to run it up, we must not dismiss his market insights out of hand.  And if the powers that be force G-Unit & Co to spin-off its prop trading division, you can bet there will be plenty of rival gangs in Greenwich who would be eager to land them.
Read Also:
50 Cent: Facebook is Worth $50 Billion (DealBook)
50 Cent Cautions Investors His Penny Stock May Not Be Right for Them (NY Observer)