A big year for deals last year according to Thompson Reuters and DealBook…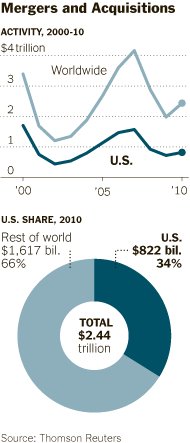 The most significant development in mergers and acquisitions in 2010 may be not what actually happened but what deal makers think happened — a return of confidence.
That sometimes fickle state of mind encouraged the first annual gain in deal-making worldwide since the financial crisis. Global dollar volume in announced mergers and acquisitions rose 23.1 percent in 2010, to $2.4 trillion, according to Thomson Reuters data. In the United States, merger volume rose 14.2 percent, to $822 billion.

Josh here, what I find encouraging and healthy about these deals is that even though capital is essentially free now, the M&A activity is not being driven by horrible LBO stuff like what we saw in the middle of last decade.  These deals are purposeful…
"To be successful, acquisitions have had to be strategic, earnings-growth positive and easily understood by shareholders," said Jeffrey Kaplan, global head of mergers and acquisitions at Bank of AmericaMerrill Lynch. "That's one reason why we're not seeing the velocity of deals that we saw in 2006 and 2007."

Josh here again, I suppose that so long as cash is trash, this can continue.  Look at the industries where a lot of consolidation has taken place – the banks have basically established a quadropoly and there are only three major airlines now – the profitability is immense for the standing companies.  I think this will be emulated across sectors.
Source:
Confident Dealmakers Pulled Out Checkbooks in 2010 (DealBook)