So what do the kids aged 6 through 12 want for Christmas this year?  You're damn right they want iPads…and they want them NOW!
I think at 6 years old I got a Teddy Ruxpin that talked when you inserted a cassette tape in his belly.  I know!
Anyway, the electronics that kids are asking Santa for, led by the iPad…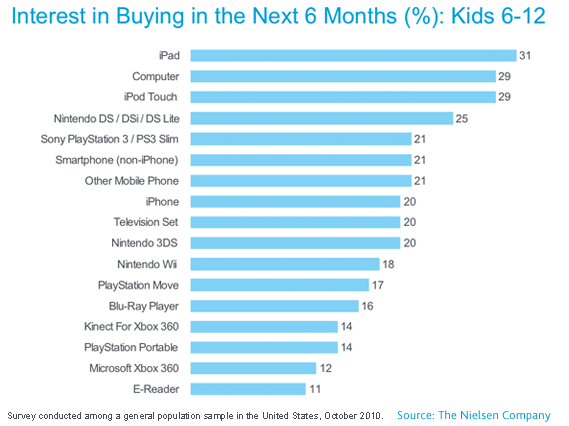 From NielsenWire:
Across a multitude of electronic offerings, the Apple iPad leads all devices (31% interest in future purchase) among American kids ages 6-12. Apple's iPod Touch is also popular choice among kids…the iPod Touch outpaces the perennial handheld gaming favorites Nintendo DS and Sony PlayStation Portable…
This should come as no surprise to anyone who's walked past an Apple Store at any point over the last, well, ever.  I'm sometimes convinced that if they found enough Geniuses, they could run these stores 24 hours a day like the Kwik-E-Mart.
Looks like it'll be an iChristmas.  Again.
Source:
Kids in the U.S. Eyeing Big Ticket Tech this Holiday Season (NielsenWire)
Tags: $AAPL