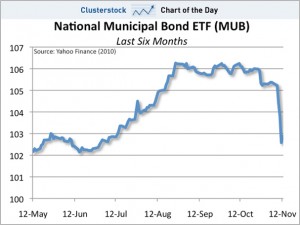 The litany of woes in the muni bond world finally caught up with the muni bond market this week.  Like a South Carolina Waffle House at 4 in the morning, ugliness was all around.
The selling got especially ugly on Friday when Ireland default talk pushed California muni bond closed-ends off a cliff.  Many of the negatives for municipalities have been well-documented and discussed for years, but now people have decided to pay attention.
Some of the lowlights for the muni market according to the New York Times:
"Concern over the increasingly strained finances of states and cities and a growing backlog of new bonds for sale…"
"For months, some on Wall Street have warned that indebted states and cities might face a crisis akin to the one that brought Greece to its knees."
"The causes of the week's big decline are clouded by unusual factors like the looming end of the Build America Bonds program, which has prompted local governments to race new bonds to market before an attractive federal subsidy is reduced."
"…the big question confronting this market is how state and local governments will manage their debts. Many are staggering under huge pension and health care obligations that seem unsustainable."
"California, for example, will have to sell nearly $14 billion of debt into the falling market this month, because of its record delay in getting a budget signed this year."
"Fitch, the credit ratings agency, issued a report saying that ratings downgrades for municipal bonds outnumbered upgrades for the seventh consecutive quarter."
And there's more where that came from.  Muni bonds were very much a part of the chase for yield.  Wealthy people, concerned with the Bush tax cuts being sunsetted in 2011, had jacked up all the traditional non-taxable munis as they became scarcer due to an increase in taxable muni issuance.
For those who do not understand why taxable muni bond issuance went up, this was the muni paper backed by the Federal government in the Build America Bonds program.
With the Build America Bonds period coming to an end, states are going to have to stand on their own; under the crushing weight of lower revenues and booming liabilities.
Not pretty, hence the sell-off.
Sources:
Municipal Bond Market Shudders (NYT)
California Muni Bond Fund Shellacking (TBP)
Chart Source: