Ben Aronson's drop dead gorgeous paintings of Wall Street wheelers and dealers will be on display in New York City through 11/27.  Here's a sample followed by some info on where to see the exhibition…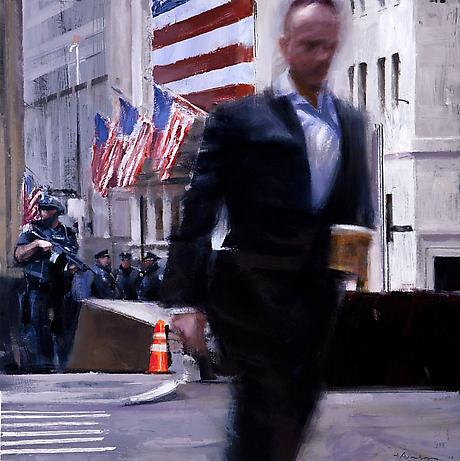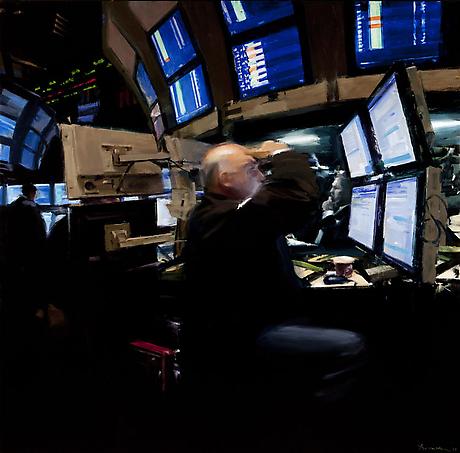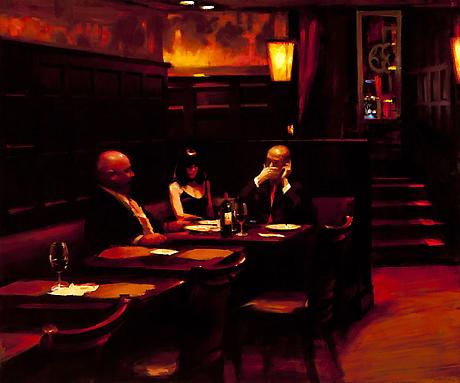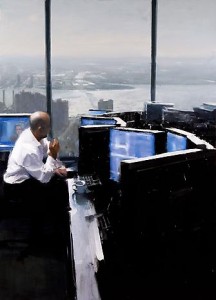 The Tibor de Nagy Gallery is pleased to present new paintings by Ben Aronson. The exhibition marks his third with the gallery.
The paintings included in the exhibition represent the artist's recent inquiry into the realm of finance; players such as Wall Street traders and auctioneers participate actively in the commodification of art, bringing about risks as well as rewards. Despite the apparent intimacy of the painted compositions, Mr. Aronson creates a palpable distance between subject and viewer. We look directly at traders on the floor of the New York Stock Exchange, but they do not acknowledge us. A group of three figures huddled together in a dimly-lit restaurant seem as disengaged with one another as they are with the viewer. The works, both large and small in scale, are rigorously painted and capture the ever-changing light as it both conceals and articulates the forms of the streets and buildings, some falling into shadow.
TIBOR DE NAGY GALLERY
724 Fifth Ave, New York, NY 10019
Tel 212 262 5050 Fax 212 262 1841
Email info@tibordenagy.com