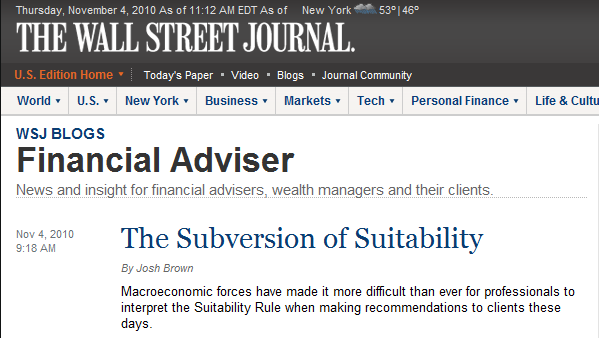 When I first started in the business, I was told to read the C Section of the Wall Street Journal every morning.  I mean Day One, Hour One, this was the first thing we were told to do.  And I listened, making it my morning habit ever since.
So when the Journal reached out and asked me to become a contributor, I was both elated and a little bit intimidated.  OK, mostly elated 🙂
Anyway, the WSJ Financial Adviser blog is going to be an online hub for both industry professionals and their clients.  I'm doing a financial adviser-related version of my morning linkfest there called The Good Leads, if you're in the wealth management or financial adviser community, I urge you to check it out each morning.
I'll also be contributing some original posts geared toward the industry.  The Subversion of Suitability addresses the difficult choice for advisers when it comes to fixed income these days:
Macroeconomic forces have made it more difficult than ever for professionals to interpret the Suitability Rule when making recommendations to clients these days.

The conventional wisdom has been that older clients with a greater need for principle safety and income should be heavily invested in cash and bonds as opposed to stocks.  However, in an environment where interest rates can only go up (eventually), combined with 10-year Treasurys yielding 2.5%, this conventional wisdom may need to be turned on its head.
Thanks for checking it out.  If you know someone in the brokerage/adviser game, give them the heads up about what we're doing over there.
Sources: