Have a quick peek at the Dow Transports vs the Dow Industrials year-to-date: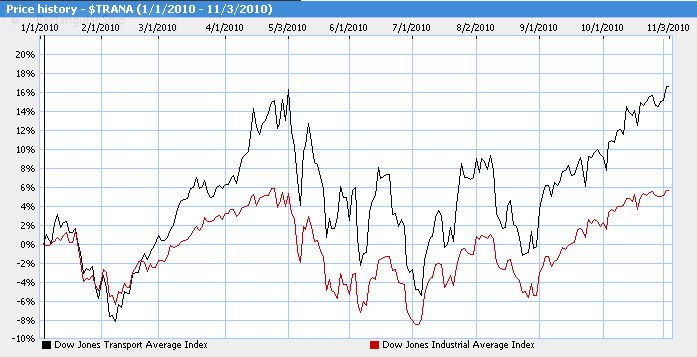 A new 52 week high for the Trannies with the possible "confirmation" of a new high for the Dow Industrials?  Can it be?  Dow Theorists are watching with baited breath.
The crux of Dow Theory, for the uninitiated, is that to confirm an economy in expansion (and hence a strong stock market), goods must not only be produced but also shipped.  The original Dow Transport Index was almost all railroads (100 years ago, obviously), now it's got Fedex and truckers and stuff, too.
I'll tell you right now that you can expect a lot of hubbub should it confirm.  The DJIA would need to take out roughly 11,300 for the prophecy to be fulfilled.  Just something to be aware of, draw your own conclusions.