A Long Time Ago (last November), in a Galaxy Far, Far Away (Manhattan)…I posted The Periodic Table of Finance Bloggers.  With this year's follow-up, a tradition is born!
First, some caveats – I tried to include all of the blogs I keep up with at least semi-regularly.  There may be some newer or less frequently updated blogs that aren't here – please no hard feelings if we missed you, there's always next year.  I also didn't include all the tweeters and video bloggers, many of whom I consider to be great in their own right.
This one's all about finance blogging.

Anyway, here's the 2010 list.  Enjoy you will…

Jedi Masters – Macroeconomics, Capitalism, Big Picture Wisdom


Droids – Technicals, Trading, Charting, Options, Quantitative Analysis
Jawas – Distressed Asset Salvage, Value Investing, Fundamental Research, Stockpicking

Death Star – Mainstream Media Blogs, Commentators for The Empire

Rebel Alliance – Misfits, Rebels, Originals & Wild Cards

Galactic Senate – News, Multiple Voices, Aggregation
Bounty Hunters – Mercenary Journos, Newsletter Authors, Pundits for Hire – not necessarily financial bloggers but definitely part of the conversation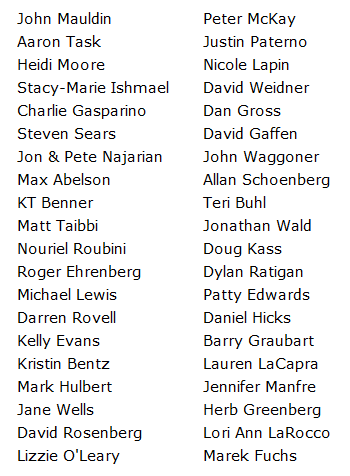 Making this financial blogger list was a ton of fun – but I'm sure I missed one or two big ones.  Be sure to yell at me below!