9:30 PM Updated!
This just hit my email box – dare I dream?!?

Dear Mr or Ms. Brown,

The MTA Long Island Rail Road Lost & Found has recovered an article that possibly matches the article that you reported leaving behind on LIRR property. A probable match does not guarantee that your item has been found. It only means that an item matching your description has been turned in.

The reference number for this property is *****.

To claim your property, please bring your Photo ID and the above reference number to the Long Island Rail Road Lost and Found Office, which is located at the LIRR Concourse Level at Penn Station near the Main Gate Area (across from Tracks 13 & 14; to right of 7th Ave escalators).

If you are claiming an electronic device, i.e. cell phone or PDA, it would be helpful for you to bring the charger for the device, so it may be powered up to assist in identification.

The Lost and Found Office is open to the public weekdays from 7:20 AM until 7:20 PM.  The Lost and Found Office is closed on weekends and on major holidays listed in the public timetable.

Your property will be held in accordance to New York State Personal Property Law.

***
That's a wrap for me today.  I lost my cellphone on the Long Island Railroad last night.  With a straight face, the Lost and Found guy told me to give it 5 to 7 days.  Why would it take 7 days for them to get my phone back to Penn Station?  Are they gonna put it through college first?
Kill me now.
Anyway, I'm short on hope today, so maybe the below cartoon will drag you down to my level.  G'night.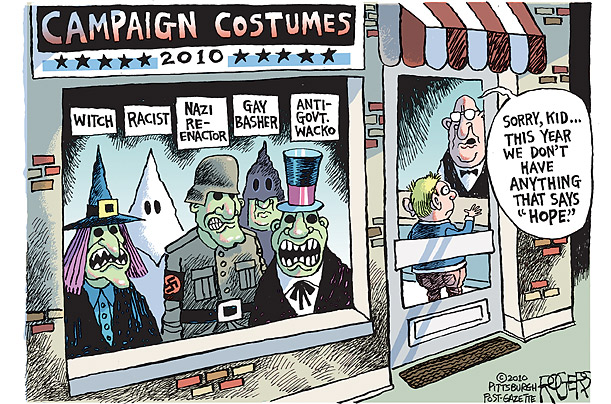 cartoon by Rob Rogers / Pittsburgh Post-Gazette