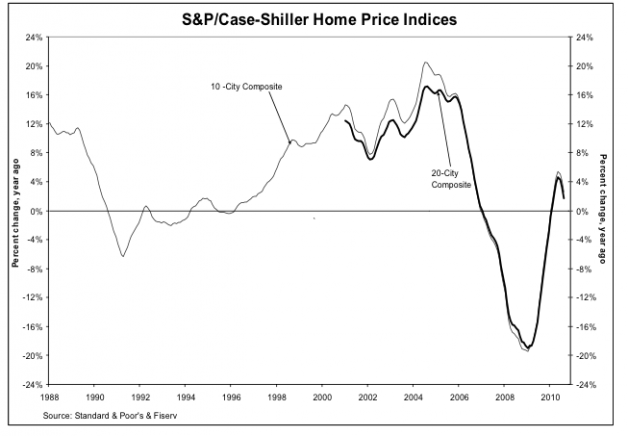 So 15 of the 20 cities measured by the just-out August Case/Shiller Index had sequentially down home prices.  So the +1.8% year-over-year gain leaves much to be desired.
Traders are asking "What the hell does that have to do with the price of rare earths metals in China?"
The thing about consistently negative and disappointing data is that after a while, you don't get much of a reaction to it.  Like that crazy aunt you have to invite over every Thanksgiving; you already know that you're dealing with a lunatic so when she shows up with lipstick smeared from ear to ear, a maniacal gleam in her eye and a cat on a leash, you don't really freak out.
It is what it is.
In the meantime, traders don't very much care about the housing market anymore.  They've become inured to the steady ebb and flow of weaker-than-expected everything that comes along whenever the discussion turns to housing and they've taught themselves to tune it out.  Housing-related stocks, banks included, have been forsaken by the hot money contingent for some time now.

"What do median home prices in Detroit have to do with middle class consumption trends in Latin America?"

"What does Miami's condo glut have to do with the explosion in mobile web video?"

"What do housing problems in Arizona have to do with Ford's $2.1 billion in 3rd quarter profits?"

"Why would the decline in California multi-family home prices distract me from the mass cloud computing migration, the app and tablet renaissance and the global smartphone explosion?"
Are trader's dancing on the edge of a knife or are they actually asking the right questions?  The direction and breadth of the Nasdaq and various emerging markets indexes will give us our answer.