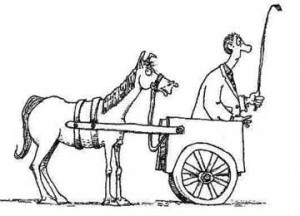 Here's a composite quote that could come from the market strategist of virtually any major firm, I'm certain you've read something like this over the last few days:
"The stock market is nearing overhead resistance, a punch through would be a positive catalyst only if volume picks up before or during the breakout."
– Any Chief Market Strategist, Any Firm USA

Wrong!
Price rules in this environment.  Volume is completely and totally irrelevant until about 5 to 7% after the breakout.
The breakout could come with only 60% of normal volume and be just as meaningful.  In counter-distinction to the conventional wisdom, I would argue that a low volume breakout would actually be preferable right now.  Here's how I arrive at this idea…
Nobody is in.  Nobody.  We've documented the equity fund outflows ad nauseum, they are bigger than Precious after Thanksgiving dinner.  Fine.  The question becomes, what can we agree is the more motivating condition for investor psychology right at this moment, Fear or Greed?
The answer is undoubtedly Fear.  How else to explain the endless Treasury rally and the full scale retreat from equities?  Fear is the conductor of this train right now, period, end of story.  With that in mind, I ask you to think about the one thing that American investors fear more than anything else – the fear of missing out on the big opportunity.
Nothing freaks out the average investor more than watching the train leaving the station without them.  I could put up 75 charts showing parabolic blow-off tops in various markets or I could just remind you that I've worked with over 1000 individual investors over the years and I know this stuff.
Fear of missing out is exactly why a stealth rally in stocks with low participation would be more meaningful and bullish than almost any other scenario.  What could possibly draw hundreds of billions out of money markets faster than a 5% S&P rally that no one was a part of?
So please, stop regurgitating the "we need real volume" pablum, it is functionally backwards.  What we need are higher prices, the lower the participation the better.  That's the kind of milkshake that brings all the boys to the yard, buy tickets fluttering in the breeze.
Show me a September rally on no volume and I'll show you a pack of dogs who will chase this market higher into the winter.
Don't get it twisted.