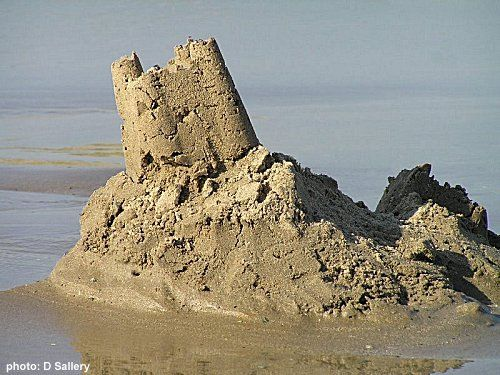 We were promised stimulus, programs and policies that would have lasting effects.  What we got instead was a trillion dollar sand castle.  Now that the inexorable tides have eroded away our leadership's best-laid (and funded) plans, someone needs to be held accountable. 
Haven't you noticed the subtle shift in the rhetoric?  It used to be about creating jobs, but lately they've been banging the drum about how many jobs they've "saved". 
Not that John Boehner and the Republicans have put out any world-stopping ideas either (cut taxes for a change?)…but still, they are right:  This Obama administration "economic team", or what's left of it, couldn't create a single net job if their careers depended on it.
"President Obama should ask for – and accept – the resignations of the remaining members of his economic team, starting with Secretary Geithner and Larry Summers, the head of the National Economic Council," Boehner said in the morning speech to business leaders at the City Club of Cleveland. The mass dismissal, he added, would be "no substitute for a referendum on the president's job-killing agenda. That question will be put before the American people in due time. But we do not have the luxury of waiting months for the president to pick scapegoats for his failing 'stimulus' policies."
Somehow the Council of Economic Advisors member Austan Goolsbee (a Dickensian aptronym is ever there was one) got left out of this screed.  Goolsbee shouldn't even get out of bed these days…All those contentious, pitbull-like television appearances pre- and post-election, defending the Boss and his Keynes-On-HGH plan against any and all comers.  All those fiery retorts of Goolsbee's have amounted to nothing as the White House has gone from taking credit for statistics that could be spun positively to blaming the Republicans for the latest stats – the ones that are now so bad that even Obama can't talk his way around them.
In hindsight, virtually all of the fiscal stimulus and extraordinary programs adopted by this administration now look like they merely forestalled the inevitable.  Hiring has not happened and in the meantime, housing is headed down another leg and the almost-resillient consumer is back to playing hard-to-get. 
Name a program, look at the lack of lasting results: What you'll find is that the moment artificial stimulus or policy props were pulled away, that program's effects were washed away like a sand castle at high tide.  Cash for Clunkers, HAMP, Private-Public Investment, First-Time Home Buyers' Credit, anything done on foreclosures, anything on the jobs front – all of these were merely castles made of sand, albeit rather expensive castles for the taxpayer.
It's unbelievable how little this crew has gotten done on the economic front and how ephemeral any of their progress has turned out to be.  Republicans will argue to the voters that things have actually gotten worse since the GOP's own Failure-In-Chief left the White House two years ago.
And they may have a point.
Source:
Minority Leader Boehner: Fire Obama's Economic Team, Extend Tax Cuts (WaPo)