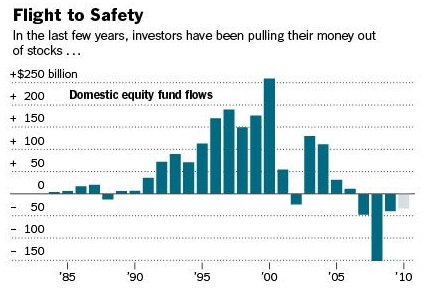 The New York Times has an interesting article up about the outflows from stock mutual funds being at almost record-breaking levels in 2010 but they draw the wrong conclusion as to what is really going on.
Investors withdrew a staggering $33.12 billion from domestic stock market mutual funds in the first seven months of this year, according to the Investment Company Institute…

If that pace continues, more money will be pulled out of these mutual funds in 2010 than in any year since the 1980s, with the exception of 2008, when the global financial crisis peaked.

Small investors are "losing their appetite for risk," a Credit Suisse analyst, Doug Cliggott, said in a report to investors on Friday.
Sorry Doug Cliggot of Credit Suisse, sorry New York Times, this has absolutely nothing to do with "risk appetites".  Leave Manhattan and go walk among the people.  Or at the very least pick up a phone and dial out to a non-cosmopolitan part of the country.
What you'll find is that people are now eating into their portfolios and living on their investment capital, they would prefer to pay bills (ar at least keep bills at bay) than worry about speculating in a market that makes little sense to them anyway (rallies on bad news, anyone?).
The men and women behind these outflow stats have been burned twice in a 7 year period and now there are taxes to pay and small company payrolls to meet and credit card bills to reconcile.  There are car leases and financing payments to be dealt with and, oh would ya look at that, the roof done sprang a leak again.
What the Credit Suisses and the New York Timeses of the world need to understand is that most people don't inhabit a magical land of 100% 401(k) company matches and guaranteed bonuses that are paid regardless of the profitability (or insolvency) of the corporate Mother Ship.  For most people coping with a difficult economy for 3 years and counting, the mutual funds in their brokerage accounts (that haven't moved all year anyway) are starting to look like good eatin'.
Like the marooned sailors in that Bugs Bunny cartoon (Wackiki Wabbit, 1943) who, delirious with hunger, begin to imagine one another as hot dogs and hamburgers, the people are making withdrawals from their portfolios because they are starving for cash.
It's as simple as that.
I've discussed this phenomenon here before, like when there was a "disappearance" of roughly a trillion dollars worth of money market funds, see below:
http://thereformedbroker.com/2010/08/02/the-money-market-piggybank-is-shattered/
Source:
In Striking Shift, Small Investors Flee Stock Market (NYT)