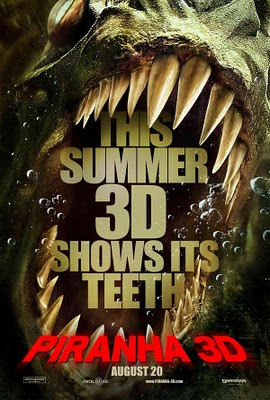 As regular readers know, I sometimes offer helpful tips and suggestions here on The Reformed Broker blog.  Today's little tip takes a page right from the new Hollywood playbook.
It seems as though the studios have hit upon a new Holy Grail of sorts, a method of releasing films that all but guarantees butts in the seats regardless of an individual film's shortcomings.  It's called 3D, and using it, Hollywood can pump out all manner of unadulterated garbage with nary a doubt about said garbage's ability to scare up a paying audience.
Witness the film Piranha, newly renamed and released as Piranha 3D.  A remarkably transparent rip-off of Jaws, Piranha 3D even goes so far as to bring in Richard Dreyfuss for a role.  He joins an ex-all star cast including Elisabeth Shue and Jerry O'Connell as they flail about mindlessly while a simple beach entrance barricade could probably have saved the day in 15 minutes.
Hollywood studios have seen the success of Avatar and the Alice in Wonderland remake and, in true American Enterprise style, they are now emptying their chamberpots into 3D labs around the world, turning leaden movies into box office gold.
Now if only John Chambers of Cisco Systems had come up with this idea prior to his company's 2nd quarter report.  If only he'd have taken his revenue shortfall and figured out a way to have projected it toward the analysts on that conference call in a novel and exciting way.  Perhaps then, we'd have been able to overlook the fact that the leading supplier of telecom and internet equipment is signifying a worldwide slowdown.
Just a little bit of 3D showmanship goes a long way these days, Corporate America.  The consuming public will gladly miss a mortgage payment to attend the release of virtually any movie – as long as they get to watch it in 3D.  And they will happily convince themselves that they loved it.
Might the same be said for quarterly earnings calls, even the ones that fall short of expectations?  Only one way to find out.  Alcoa, you may want to reach out to James Cameron's people as you'll be batting leadoff this fall.
Read Also: