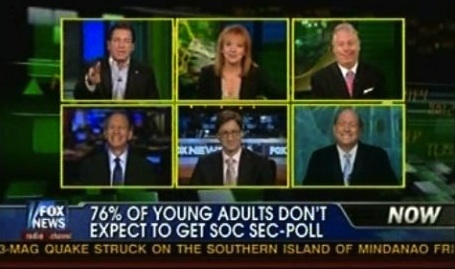 For the last ten years, my favorite standalone program about the stock market has been Bulls & Bears on the Fox News Channel.  I've probably seen 9 out of every 10 shows they've ever done and I can name every single person who has ever been one of the regular panelists.
And because I've been a fan of the show for so long, I've got to get this off my chest:  In it's current  iteration, Bulls & Bears has become completely unwatchable.
I want it to be fixed so this post will diagnose the problems and offer some solutions.
The good news is that they already have the talent to turn the show around.  The regular panelists right now are all great and host Brenda Buttner is fantastic at keeping the show moving.  What needs changing is the format; the talent they have is being completely misused.
A typical episode of the show these days goes something like this:
First Segment: Something to do with unions.
A sacrificial liberal weenie is trotted out to feebly make the case that unions are great for business (c'mon, really?).  Then Brenda unlocks the cage so that Gary B. Smith, Eric Bolling and Tobin Smith can just shred the poor guy to pieces.  Every now and then S&P's Pat Dorsey shows up as the voice of moderation, but the lefty guest is really like a goat tied to a post in the T Rex cage.
Second Segment: Something to do with raising taxes.
Another liberal weenie saunters in to ignite a class warfare debate which Brenda then escalates into a Code Red.  Said liberal weenie is beaten by Tobin with a pillowcase stuffed with soda cans while Bolling and Gary B. blow his car up in the parking lot.  Even for those who agree with the panelists, the proceedings are hard to watch.
Third Segment: Predictions!
This used to be the most fun part of the show, now it feels like the panelists are alotted less than 6 seconds each, you can almost sense the credits starting to roll halfway through.  Which is stupid because they should know after ten years that this is the fan-favorite segment.
***
Seriously, tune in if you don't believe me.  Sad, right?
So enough complaining, how can it be fixed?
1.  Enough with The Agenda.  I would say that Fox News pretty much has the low tax, pro-business angle covered 20-something hours a day, 7 days a week.  Let's talk Bullishness and Bearishness on Bulls & Bears, OK?
2.  Use the talent you have the right way.
Eric Bolling's career as a commodity trader is borderline legendary…so why is he talking about taxation on the show?
Gary B. Smith is a technician and a pretty well-regarded one at that…but does anyone care what he thinks about Cap and Trade?
Tobin Smith is one of my favorite stock pickers…why on earth is he talking about Nancy Pelosi?
The regulars are terrific when they talk markets and investing.  Why the producers are wasting the panelists' time on Crossfire-style yelling matches with college professors is beyond my comprehension.
3.  Elongate the stock picking and investing ideas segments.  In the old days, Bulls & Bears had fund managers on who would trot out their positions and the panelists would kick these ideas back and forth, chart them, deconstruct them and candidly agree or disagree with the thesis.  And the audience learned something, maybe even got a jumping-off point for their own research.  When was the last time the show was about that?
4.  If we're going to debate, let's debate stocks! Some of the show's best moments over the years have come during heated exchanges over sectors and individual names.  Pat's claim of overvaluation based on fundamentals versus Gary's claim of a healthy supply/demand picture.  Bob Froelich's bearishness on an overhyped midcap versus Tobin's revelation about a new product the company was working on.  This is what the viewers want, not the master course in Objectivism or the supply-sider talking points du jour.
Successful investors may have strong political beliefs but they know to keep their leanings divorced from their trading activity.  The show needs to re-learn that concept and get the gang back to making stock market and economic calls without the relentless indoctrination.
Bring back the real Bulls & Bears and the ratings will go up, you'll see.
PS:  Don't bother trying to get in touch with the show, here's what you'll get back:
Delivery has failed to these recipients or distribution lists:
bullsandbears@foxbusiness.com
The recipient's mailbox is full and can't accept messages now. Microsoft Exchange will not try to redeliver this message for you. Please try resending this message later, or contact the recipient directly.