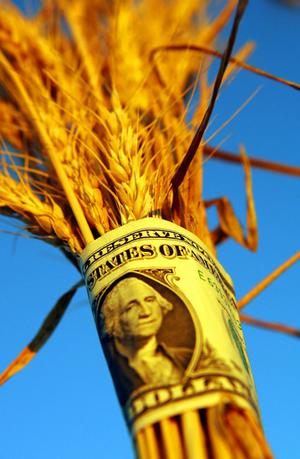 Wheat prices in Chicago are up almost 50% since the beginning of July and, as expected, the speculators are going bonkers.
The rally in wheat prices is supply-driven, the proximate cause being the worst drought in Russia in three decades.  According to a Bloomberg story this morning, Russian firefighters are battling 520 separate wheat field fires spanning over 700 miles in area.  This has led to speculation that Russia will announce a ban on all wheat exports which in turn has driven the bulls into a frenzy.
And as on cue, the experts are being trotted out one by one to discuss the fact that, due to demographics and climate change, the long term uptrend for wheat and other soft agricultural commodities has only just begun. 
I see this story going one of three ways from here:
1.  The Wheat Trade becomes the Next Sugar Trade and fizzles out as every hedge fund manager in the country plows in, knowingly playing the "greater fool" game.  For reference, take a look at last year's action in sugar, a hedgie gold rush that ended in sweet, sweet tears.
2.  The Malthusians, who believe that we will inevitably run out of food for our global population, will be right and agriculture will be a major investment theme for years to come.  This is by far the scariest outcome from a social standpoint, but an exhilarating opportunity for investors should it come to pass.  Farming equipment, irrigation systems, genetically modified seeds, fertilizer, commodity ETFs, farmland REITs – the list of ways to play a Malthusian crisis are endless.  Until you end up starving as the vicious reality outruns your investment profits.
3.  It all blows over as the food riots of 2007-2008 did once deflation set in.  China's internal economic battle is the swing factor here.  We simply do not know if they can engineer a soft landing and continue to import and consume.  If their real estate bubble blows up in their faces, they may end up having to chill out with all the new proteins their emerging middle class wishes to consume.  This will ease the strain on supply as farmers around the world plant more wheat for next season as well.
I don't have a strong sense of which of these three outcomes will play out, but I'm definitely brushing up on my agriculture plays just in case the strength in wheat continues or spreads to other soft commodities.