More evidence of the Recovery Apartheid…
The Wells Fargo/ Gallup Small Business Index sure is lookin' good!  By which I mean that the sentiment-based index tracking the optimism of small business owners is now at its lowest level since polling began in 2003.  So I guess it's looking good if you're in the liquidation business or bankruptcy law.
Anyway, first some context and then the squiggly lines:
The Wells Fargo/Gallup Small Business Index — which measures small-business owners' perceptions of six measures of their current operating environment and future expectations — fell 17 points to -28 in July. This is its lowest level since the index's inception in August 2003.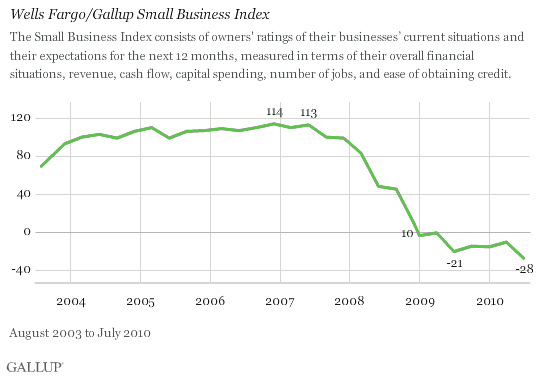 Glad you stuck around for the best part: According to the pollsters, most of the decline came from the "Future Expectations" component of the survey that tracks business owners' outlooks for cash flows, new jobs, access to credit and capital spending.  In other words, as dour as the subjects are about the present sitch, they are even moreso about the near future.
Source:
Wells Fargo/ Gallup Small Business Index Hits New Low in July (Gallup)
hat tip David Merkel