Josh here…and the number's out. You couldn't find evidence of a strong recovery in this data with Sherlock Holmes on the payroll. From the NYT:
The United States added just 83,000 private-sector jobs in June…

Over all, the nation lost 125,000 jobs…Most of the lost jobs came as temporary workers hired by the federal government to help with the census exited their jobs.


The unemployment rate, based on a different survey, declined to 9.5 percent in June from the previous 9.7 percent.
Good luck with that.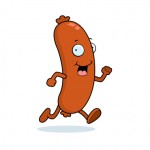 (Abbreviated Hot Links this morning as we await the Non Farm Payrolls report shortly.  Tune in here for reactions.)
Stuff I'm Reading this Morning…
Clarity, Conviction, Consensus – we're in too tough a spot right now to be making any determinations.  (TBP)
Absent stimulus for one month, pending home sales drop 30%.   (GreenspanMess)
Bob McTeer: The US and Europe have two different sets of problems.  (StreetTalk)
My favorite article of the week was Jay Palmer's look at Clarence Barron and his home.  (Barrons)
The fattiest food of each of the 50 states.  Epic.  (Health.com)