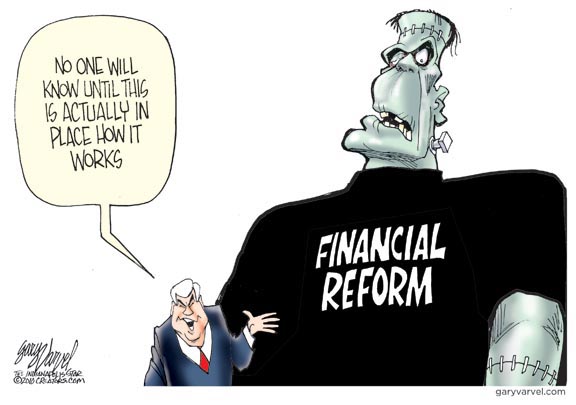 I know the passage of the financial reform bill wasn't keeping anyone up at night – it's not like we haven't already lost everything anyway – but as an update, Senator Byrd's death this week makes the legislative arithmetic a bit more difficult and the Dems may not have the votes.
So they'll take their 6th or 7th vacation for the year and then reconvene after July 4th to do some more watering down and compromising.  The people that ruined the lives of millions will still be running the show, rest assured.
Here's an interesting take from Heidi Moore about how a lot of the 2000 page bill is about "agreeing to study the issue":
http://wallstreet.blogs.fortune.cnn.com/2010/06/30/bank-reform-fake-it-til-you-make-it/
I'm starting to think that the madness won't end until we're all traipsing the boulevards like Dickensian orphans, picking each others' empty pockets if only to stave off our inevitable submission to the workhouse.
And by the way, the market sold off again today.  Big.
Art above by my fave cartoonist, Gary Varvel of the Indianapolis Star.