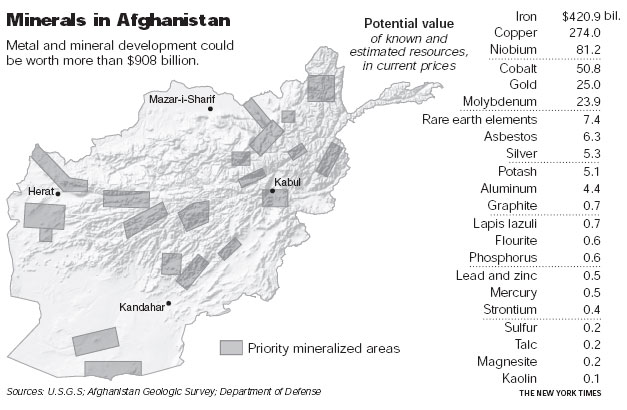 Our troops have apparently made quite a discovery in Afghanistan according to the New York Times:
The United States has discovered nearly $1 trillion in untapped mineral deposits in Afghanistan, far beyond any previously known reserves and enough to fundamentally alter the Afghan economy and perhaps the Afghan war itself, according to senior American government officials.
I'll make some loosely connected observations below and then send you over for the full story…
1.  Yay!  Another thing for eternally warring factions to kill each other over!
2.  Who gets all this cobalt, iron and lithium?  Karzai's Corruption Incorporated?  The Warlords?  The Taliban?  I'm starting to think it would've been better if this deposit was never found at all.
3.  Dammit, I knew I should've built that 3X Afghanistan Leveraged ETF!
4.  Boy did the Russians screw up back in the day.
5.  Joy Global ($JOYG) and other vendors to the mining industry may need to sublease cave space from Bin Laden Realty Co.
6.  If this goes down anything like what happened with the Iraqi oil fields, China will swoop in and cut a deal now that the US has already expended its Blood and Treasure for 9 years.
7.  This is cool and all, but it better not interrupt the flow of poppy-based products to Amy Winehouse's central nervous system.
8.  Stop me if you've ever wondered this before – why must the best stuff always be found in the worst places?  Next they'll find 4 million American jobs buried under a hill in North Korea.
I'll be here all week, tip your waitress.
Here's the full story: