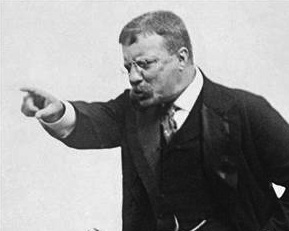 "…the man who really counts in the world is the doer, not the mere critic-the man who actually does the work, even if roughly and imperfectly, not the man who only talks or writes about how it ought to be done."
– Theodore Roosevelt
Regular readers know that I am occasionally visited by ghosts when working late at my perch, high up in the Helmsley Building.  The other night, the spirit of Teddy Roosevelt blew in through my open window and he had quite a lot to get off his chest…
Reformed Broker:  Who's there…hello?
Theodore Roosevelt:  Young man, take your seat and be at ease.  It is I, Teddy Roosevelt.
RB:  Welcome to my office. You know, we're both from Long Island, Mr. Roosevelt.
TR:  Yes, but my Long Island was about oyster farming and duck hunting, your Long Island is about mani/pedi's and bagel stores.
RB:  True.  Anyway, you saw the country through some fairly tumultuous times 100 years ago, what do you make of the current state of affairs?
TR:  Frankly, boy, I am appalled with the lack of competence on display by our leaders on virtually every front.  I am at a loss for where one could even begin!
RB:  How about the fact that between four of the so-called Too Big To Fail banks, assets under their control have almost doubled from the pre-crash era…
TR:  A complete and total takeover of the banking system by the same parties that almost destroyed it.  What is chiefly needed here is a spate of trustbusting.  Once again, JPMorgan must be tamed; this time not the man, but his namesake bank.
RB:  What would the similarities be between your trustbusting initiatives back in the day and what's needed now?
TR:  The need for leaders to 'walk softly and carry a big stick' has not changed.  Only Paul Volcker seems to understand this, but the President's other money men are still enamored with Wall Street and have whittled Mr. Volcker's stick down to a nub.
RB:  Are you surprised by how utterly captured Obama appears to be by large corporate interests, like those of Wall Street for example?
TR:  First off, the man is sitting president, he should be referred to as such or as Mr. Obama at the very least.  I would say that the President suffers from the capture that I warned about in my first term.  I said that all corporate contributions to politicians should be forbidden by law.  Instead of the nation heeding my advice, they've created a playground for Political Action Committees and lobbyists, to the detriment of the people and their democratic rights.
RB:  One of the hallmarks of your presidency was your stewardship of the land and championship of environmental conservation.  What are your thoughts on this catastrophic BP leak in the Gulf?
TR:  I've just one thought, perhaps it is more of a potential solution:  The well should be plugged with British Petroleum executives, alive or dead, it matters not.
RB:  Wow, fairly harsh Mr. Roosevelt…
TR:  BP is the absolute worst kind of polluter, the hypocritical kind.  I watch very little television, mainly the news and the occasional installment of House.  I cannot recall getting through a single 30 minute sitting without seeing a BP commercial discussing all of the company's green and clean initiatives.  Each instance of BP claiming to be 'beyond petroleum' is a lie, the company's soul is as black as the wraith it's unleashed from the briny depths.
RB:  How would you solve the unemployment problem that plagues our nation.  You were, after all, a famous progressive…
TR:  Employment is a symptom of the problem, not the problem itself.  Put simply, we have become Too Fat To Work.  I would first declare a mandatory 4 day work week and insist that all Americans spend the 5th day outdoors.  Mountain climbing, hunting, fishing, rafting, walking, horseback riding, anything but standing behind a counter or sitting behind a desk.  We are a slovenly nation of the fat and the tired.  Until we cease to be partially-liquid pools of blubber pecking away at keyboards, we will not be able to solve a damn thing, employment or otherwise.
RB:  Actually, that's the coolest idea I've ever heard for fixing America, although I'm not sure how that sort of thing could be policed…
TR:  Obesity is detectable with the naked eye.  Those who knew me were well aware of how fond I was of steaks and other rich food and drink, but staying active kept me vital and productive.  Show me 100 Americans and I will show you the 20 to 30 who are not spending enough time outdoors.  This is the first step for the amelioration of the workforce.
RB:  What's on your iPod these days, Teddy?
TR:  I'm feeling this Jay Electronica cat, he's a down-south rapper from New Orleans but his flow is straight Brooklyn.  I also like that Mountain Man song by the Crash Kings.  Oh, and the new hit album from The Black Keys is killer, these guys should have broken through 6 years ago with Rubber Factory, but better late than never, I suppose.
RB:  Well, thanks Mr. Roosevelt.  A pleasure speaking with you.  Hopefully the next time you pop in, things will look better.
TR:  Harumph.
RB:  OK, I guess.  Nice to meet you.