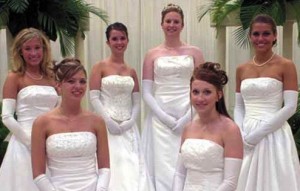 A handful of young, vivacious tech stocks made their debuts this year, but I pretty much kept my hands to myself upon their arrival.
You couldn't buy any of these smoke shows when they IPO'd earlier this year, they were pricing above the range and opening at huge premiums.  Now that the market's pulled back, I'm doing some homework.
I haven't yet formed an investment opinion on these names, I'm only now throwing them up on my radar.
Meru Networks ($MERU) – Founded in 2002, Meru is about helping small and midsized businesses with their internet connection needs.  According to 24/7 Wall Street, it "was hot at the IPO (for as much as a 30% gain in the first day and headed south since.  The networking solutions company came public at $15.00 and is now down 7.8% at $13.83."  (source: 24/7 Wall Street)
Calix Networks ($CALX) – "Jefferies & Co. analyst George Notter launched with a Buy rating $16 target. 'Calix is a direct way to play the broadband stimulus plan,' he writes. 'We expect Calix to begin recognizing revenues from this spending in late 2010, with the bulk of the benefit hitting the top-line in 2011 and 2012.'" (source: Barron's)
SS&C Software ($SSNC) – A well-established maker of software for institutional investment managers (funds, trading firms, banks etc).  Ridiculous 49% profit margins, some debt.  Jeffries, Raymond James, JPMorgan and Credit Suisse all initiated it with buys on May 10th, Wells Fargo started it at an Equal Weight. (source: Street Insider)
Alpha & Omega Semiconductors ($AOSL) – Power and battery efficiency is so hot right now as all these mobile computing devices are energy drainers.  This one does power management chips.  "Alpha & Omega Semiconductor, a leading supplier of power management chips for laptops, flat panel displays and a variety of consumer electronic devices."  (source: Seeking Alpha)
There were one or two other tech IPOs that came out this year but these are the ones I'm trying to learn more about.
Here's a quick look at how they've fared since descending the staircase into the ballroom: