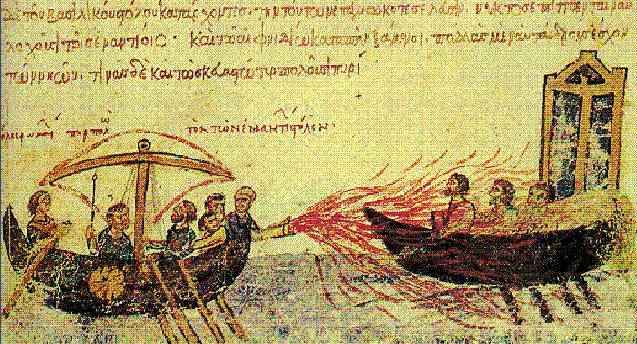 Greek Fire was one of the most destructive weapons of the Dark Ages.
The Byzantine Empire used this specific incendiary mixture to fend off countless attackers, particularly in naval battles as Greek Fire could even burn on the surface of the sea.  It could spread to every part of a ship at sea or leap to other vessels in an enemy fleet.  Once unleashed, Greek Fire became nearly unstoppable.
Stocks are battling with their own version of Greek Fire this morning – as the threat of a Moodys or S&P downgrade on the sovereign debt of Greece threatens to unleash a firestorm of markdowns and panic around the world.  Like the ancient weapon itself, investors are worried that the flames will be impossible to douse, spreading through the Euro Zone and possibly beyond.  The Dow is off 165-ish as I write.
The jobless claim numbers this morning certainly didn't do us any favors either but I believe that the sovereign debt story is bigger.  It is playing havoc with currencies, bonds and stocks in a way that employment reports cannot.
There are those voicing the argument that this Greek Fire can be contained.  I'd say two things – first, we have a pretty lousy record of "containing" anything over the last 15 years (think sub prime) and perhaps its too early to be making any judgements one way or the other. 
I'm just hoping not to have to do a Clash-themed post about "Spanish Bombs" or a frozen credit analogy called "Italian Ices".
One positive is that to this day, we still don't know the exact Byzantine formula for their Greek Fire.  On the contrary, we know very well what the ingredients were that led to the calamity in Greece, so hopefully the solution and future prevention will be easier to come by.