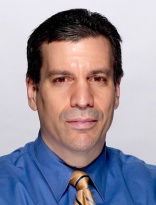 The following memo blew down Avenue of the Americas and got caught under my foot on the way into Del Frisco's Steakhouse.
All Fox Business Network Personnel:
While reports have been circulating around the World Wide Web that journalist Charles Gasparino will be leaving CNBC to join our Fair and Balanced family here at Fox Business, we would like to take this opportunity to issue our official disconfirmation.  Not a denial per se, rather a statement of non-confirmation.
Please do not approach senior Fox Business producers and executives with questions on the Gasparino subject and be aware that if they are, in fact, exhibiting smirks or rubbing their hands together in a supervillainish way, it means absolutely nothing.
Some other items we ask all employees to ignore:
The new construction project involving a doubling of square footage for the Fox Business gym and workout area
The Fox Business chefs working in the test kitchen on new recipes that seem as though they contain what some staffers have referred to as "atomic amounts of garlic".
The installation of our brand new 2-story Vodka freezer and Martini Atrium.
The new Pietro's snack bar and steak kiosk.
The seemingly random placement around the building of ab rollers and pec decks.
The recent deliveries of tanning bed equipment.
That enormous pyramid in the lobby of signed copies of The Sellout, now out in hardcover by HarperCollins Publishers.
To reiterate, none of the above items should be spoken about outside of headquarters or considered to be evidence of what would be an incredible coup – the signing of Mr Gasparino.
Thank you for your attention,
Maddy Murdoch
Chief of Human Resources
Fox Business Network, a MySpace company