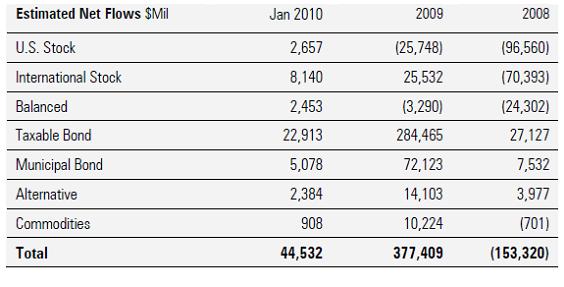 According to Morningstar, individual investors continued to pour money into bond funds…0% interest rates for an eternity will do that.  International fund inflows still outpaced US only.
From Morningstar:
The stock market began 2010 on a sour note, with all major indexes off more than 3% for the month of January. But that didn't keep U.S. investors away from mutual funds, which saw total net inflows of $44.5 billion.

U.S. stock funds reversed a four-month slide, taking in roughly $2.7 billion in assets. International-equity funds gathered more than $8.1 billion in assets, the biggest monthly inflow since December 2007.

And bond funds continued to dominate all other asset classes, as investors added $28.0 billion to fixed-income funds in January. Based on total net assets, fixed-income funds represent 30% of the mutual fund market, up from 19% at the end of 2007.
The bond fund thing is interesting.  30% of all assets in mutual funds are in fixed income – an asset class that could be destroyed once rationality returns and the Fed hikes rates.  Folks better be watching their durations!
Source: