Rite-Aid ($RAD) is probably one of the worst stocks in the history of stocks.  Essentially, its the turnaround story that never turns around.  This morning, Michelle Leder of footnoted.org dug up evidence that could almost be looked at as outright stealing.  More on that later.
The guys running Rite-Aid in the 90's were corrupt (when they were busted, the company barely avoided bankruptcy).  The team that was brought in to turn it around is merely incompetent.  Walgreens ($WAG) and CVS ($CVS) basically take turns beating Rite-Aid with a child's mini-bat like you would get at a baseball game.
I don't need to get into specific examples of every failure and stupid decision this management team has made…I can just do this: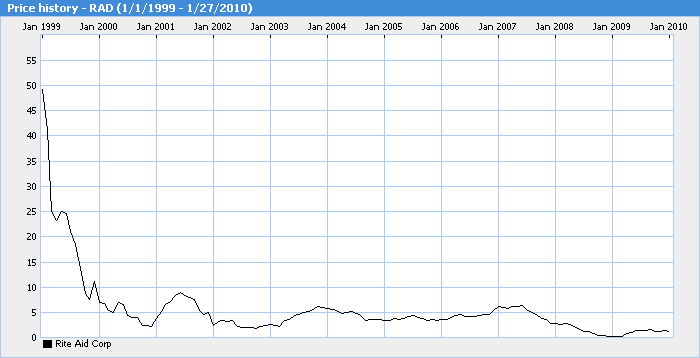 A look at the chart above gives you a glimpse of what a decade of frustration, missed opportunity and shareholder abuse looks like.  So what is performance like this worth according to Rite-Aid's vigilant board of directors?  Now that CEO Mary Sammons, who has run this plane crash for the last decade, is stepping down, we get a glimpse based on the latest 8-K filing…
in the 8-K that the company filed yesterday, were some of the financial details of the transition. Sammons, who will remain Chairman of Rite Aid through June 2012, will continue to collect the CEO salary of $1 million a year through next June plus any bonus/incentives. After that, her salary will drop to $350K, unless she winds up leaving before the end of the current fiscal year. In that case, she'll collect three times her salary plus target bonus.

At the same time, Standley, who was hired at $900K a year, will see his salary go up to $1 million and he'll be eligible for a 200% bonus. So basically, Rite Aid will be paying for two CEOs for the next year, even though starting in June, Standley will be the only one with the actual title.
Here's what will happen as a result of this blatant example of people being rewarded for destruction of capital.  Absolutely nothing.  Most of the shares are held by do-nothing mutual fund managers who rarely, if ever, open up the envelope upon receiving proxy materials let alone actually cast a vote against anything.
If the board that approved these compensation levels actually read the proposal, they are aiding and abetting borderline theft.  If they didn't read about it and just broke out the rubber stamp, then they are negligent in their duty to shareholders.  Either way, they are lucky to be running a $1-per-share almost worthless company, otherwise, someone might actually give a damn and do something about this.
Rite-Aid's flaming board failure is just one of many.  No wonder guys like Carl Icahn never run out of targets.
Great work uncovering this one, Michelle.
Source: