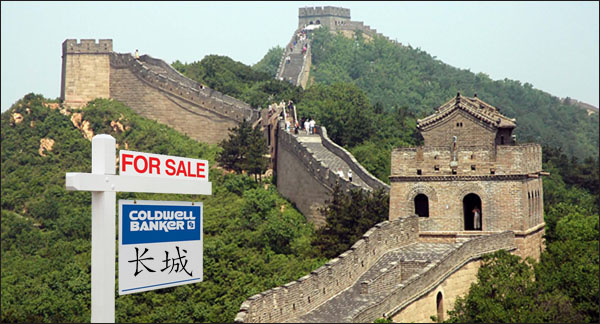 Hey amnesiacs, I'll help you out with your willful blindness re: speculative manias…
There IS, in fact, a property bubble in China, it is utterly undeniable.  Close your eyes and repeat this phrase however many times it takes until you are able to sober up:
THIS TIME IT IS NOT DIFFERENT.
OK, hopefully, you will have cleared your mind enough to focus on the real question.  We should not concern ourselves with disproving the obvious.  Instead, we should be more focused on what the inevitable bursting of that bubble will mean for China's economy and then by extension, everyone else's.
In short, yes there is a bubble, but what will it mean when it pops?
First, I'll address the pussyfooting around going on in the blogosphere.  I'll throw some factoids at you, you tell me it doesn't read like a Dubai article from 2008 or a Malibu story from 2005 or (brace yo self) a report from Japan circa 1989.
In Tianjin, a city two hours from Beijing, a developer is starting work on a vast project of luxury villas, built in clusters named after continents, which form the shape of a world map. (FT)
Overinvestment – Total fixed investment jumped to an estimated 47% of GDP last year—ten points more than in Japan at its peak…in most developed countries it accounts for around 20% of GDP. (Economist)
(There is a) 7-star hotel and indoor ski slope that are also part of the plans. (FT)
Prices of new apartments in Beijing and Shanghai leapt by 50-60% during 2009. (Economist)
I could go on and on forever; we could talk about the overbuilding of Macau's Cotai Strip, the fact that Chinese citizens are referring to themselves as "mortgage slaves" during protests, the massive overcapacity in the industrial sector, the things that college students are doing to afford housing and the gold rush of foreign money coming in to play the build-and-flip game…but you already know this stuff is going on.
Now of course, there are writers and analysts all over the world who will use increasingly arcane stats to obscure the mania and justify valuations.  They will also try to bend your perception of these stats and trot out data that looks relevant at first, until you realize how much work went into torturing it to say sanguine things.
The rationalizers did this in California and Miami, they will not forsake the developers in the Middle Kingdom.
So my point is this…I'm not here to call a top in Chinese real estate speculation, let Chanos be masochistically early to that trade, I'll simply say that all of the classic signs of a bubble are apparent.  This does not equate to the argument that China's growth is fake or that their economy is about to crash.
I have absolutely no idea what a deflating real estate problem in Hong Kong or Shanghai will truly mean to the rest of the Chinese economy or our own.
The optimist would say that a bursting would be a healthy way to wring out excess, punish some European speculators and further bolster the native middle class as homes become affordable in the cities again.
The wingnut would say that a Chinese real estate crash would be a precursor to civil war in the provinces.
The more moderate casual observer (like myself) would simply say Que Sera Sera and keep an eye out for further developments.
Again, yeah it's bubblicious, but we do not yet know how much bigger it will get or what the downside will be (if any) once it falls apart (it always does).
Sources:
The Soap Opera of China's Housing Boom (FT)
China's Economy: Not Just Another Fake (Economist)