(read the below in an exaggerated Australian accent, like that guy who took bubble baths with great white sharks and electric eels but for some strange reason died in a freak animal incident.)
Krikey!  This landscape is litrelly filled with Market Bears!  But wait just a tick – there appear to be many different types of bears running about…all with different attributes and markings to help us tell them apart.
Let's have a peek through the binoculars and see what we've got:
The Born-Again Bear (Ursus Scottradeum) – this creature was horribly wounded during two prior market crashes while remaining long and margined to the hilt.  Has since sold entire portfolio at the bottom, subscribed to RGE Monitor and delights in telling the members of his old investment club what morons they are.  Can be found roaring "bwahaha" at other investors on the Yahoo Finance message boards.
The Perma-Bear (Ursus Abelsonious) – the very definition of "creature of habit", Perma-Bears are right 2% of the time but tedious and pedantic 100% of the time.  By never conceding the fact that anything could even possibly be a positive, they render themselves irrelevant, even during actual bear markets.  Many, however, are brilliant and lovable, despite their unwillingness to change or concede.
The Conspiratorial Bear (Ursus Tinfoilicon) – A highly adaptive sub-species of the Perma-Bear.  These animals are known for their over-perspicacity and have foreseen 11 of the last 3 market corrections due to a light social calendar and a fondness for Data-mining & Dragons.  They are, however, always the most interesting bears to behold in the forest and serve the important role of keeping the other woodland creatures on their toes and alert.
The David RosenBear (Ursus Aurum Minotur) – a species that is outwardly concerned with the instability of economies and markets yet cannot resist the urge to speculate in gold stocks.  He will justify his "playing" of precious metals with myriad warnings of inflation, deflation, mega-flation, Gaga-flation etc, but in reality, he is banking on the greater fool theory just like everyone else.
The Long-Short Bear (Ursus Kasseus) – can often be found running a hedge fund and being a contrarian sometimes just for the sake of being a contrarian.  He is often bearish but will go long when he senses that too much public opinion may have shifted to his side.  Takes great delight in fading the herd and making the most difficult trade in the case of multiple standard deviations being stretched.
The Grizzled Bear (Ursus Davidticenum) – a long-lived species of bear, one which has been negative for so long that it's forgotten which way is up.  The Grizzled Bear eventually becomes more concerned with being consistently negative than with being right, and so becomes more well-known for his doomsaying than his returns.  TV producers only call this bear to come out of hibernation for an appearance during times of market duress.
The Opportunistic Bear (Ursus Nimblesus) – these are bears gifted with a strong instinct for survival.  They will often compartmentalize their rigorous assessment of big picture economic conditions in favor of profiting in the near-term from what they conceive of as the madness of crowds.  A highly practical species, this is one of the few bear types that did not become endangered over the last 6 months.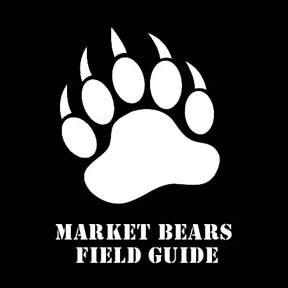 Right then.  With all these types of Market Bears about, be careful about which ones you pay attention to.  And remember mate, market cycles are like boomerangs – they always come back around sooner or later.
G'day!
editors note: don't get it twisted, we'll be covering the bulls here soon enough.