Good news to begin the year with:  Soundgarden is reuniting!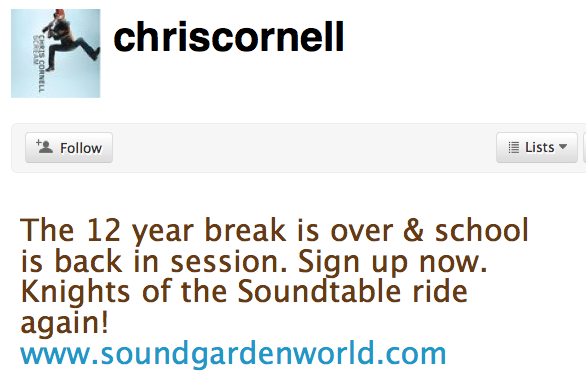 For those who don't understand the significance of this, let me give you some perspective…
Soundgarden was one of the greatest bands of the 90's and certainly one of the top grunge groups of the early part of that decade.  They weren't the biggest-selling band of the genre (Pearl Jam was), nor were they the biggest hit-makers (Stone Temple Pilots were), nor were they the most important (Nirvana were), nor were they even my favorite (Alice In Chains was), but Soundgarden was an incredible group and having them back in action makes me extremely nipply.  Can't believe I just wrote that.
If you are in college now and reading this, you were probably Tickling an Elmo back when Chris Cornell & Company were ruling the world with tracks like Outshined, Spoonman, Fell On Black Days and of course, Black Hole Sun.  Their masterpiece album, Superunknown, debuted at number 1 on the Billboard 200 in 1994 and went 5 times platinum.
They were one of the few grunge acts that made it past the 1993 cut-off.  The band separated in '98 and then Cornell did the solo album thing along with an interesting second act with Rage Against the Machine (minus their lead screamer) called Audioslave.  This day was long overdue and now rock fans all over the world (at least the real ones) are delirious in anticipation of a new tour and album.
Cornell back with Soundgarden.  It's a good omen for the new year.
Oh yeah, and he didn't break the news on MTV, in Rolling Stone or on a rock radio station.  He did it on New Years Eve on Twitter for the million and a half people following him.  This is not just a music story, it's yet another example of how game-changing social media is as far as news dissemination, just like the Michael Jackson death example and the Iranian Protest happening.
Feel like rockin' out?  I hooked you up below: