CNNMoney's The Buzz column urges us to beware of some of the big winners of 2009, as some of them are still pretty unprofitable….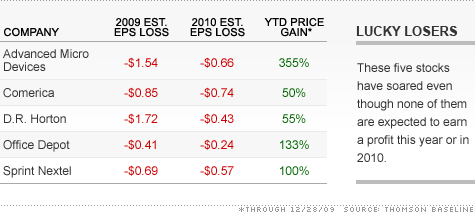 Not that the market was particularly concerned with profitability in 2009.  Many stocks went up exponentially on the news that they would not, in fact, be going Chapter 11.
According to Paul La Monica of CNNMoney:
Some companies that have shined in 2009 are expected to earn less next year than they did this year, which makes their 2009 stock gains suspect.
A broad bull market run can do wondrous things, especially for some of the ugliest stocks out there.  Be warned, many of last year's stars may not repeat when it comes time to Pay the Earnings Piper.
Source: