this post originally appeared on December 6th 2009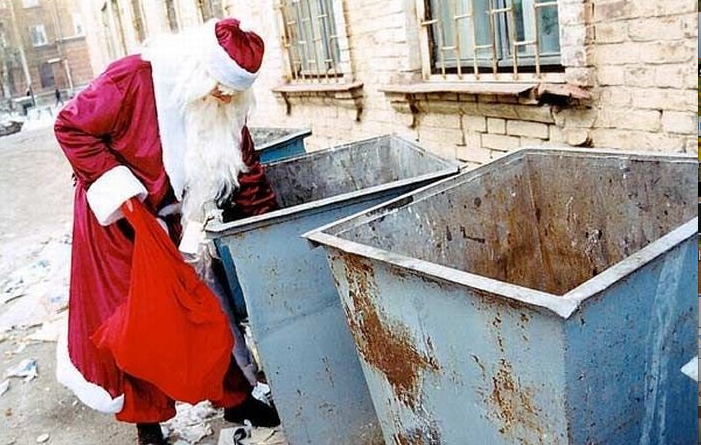 This post will be 99% anecdotal, 1% empirical, because I haven't the time or energy to go dig up supporting data for what we all know:  Most years, the market rips higher during the week between Christmas and New Year's Eve and this one week run is commonly referred to as The Santa Claus Rally.
You can check the Stock Traders Almanac for the percentages and stuff, or just use your memory, it happens almost every year.
One of the most well-known aspects of the Santa Claus Rally is the fact that the junkiest stocks tend to do the best.  Year after year, I've seen serious fireworks in some of the most absurdly trashy names and sectors you could think of.  So I'm starting to get my list together now because I don't really follow junk stocks during the other 51 weeks of the year.  Here's where my search begins:
Junk Stock Categories I'm Digging Through…
Single Digit Telecom Gear Makers
Southeastern Regional Banks

One-Drug Biotech Companies

Stocks With Ticker Symbols That End In "X"

China Automotive Suppliers

China Agricultural Companies

China Pharmaceutical Plays

China Anything, Come To Think Of It

Dry Bulk Shippers

Canadian Gold Miners Trading Under $4

Nuclear Power-Related Names

Overstock.com

Wind Technology Plays

Geothermal Energy Stories

Great Product/ Bad Business Stocks

Companies Pretending To Have Swine Flu Cures

Stocks That issue More Press Releases Than A Tiger Woods Mistress

Anything Nanotechnology Related

Bankruptcy Candidates With Newly Extended Credit Lines

Any Stock Held By Mark Cuban

Stocks Nicknamed The

"blank"

Of Asia

Stem Cell Anything
I don't recommend anyone follow me into this type of thing, only the big boys and the hair-triggers should really play this game.  Its an ugly, filthy, risky way to take advantage of the last week of the year, but it sure is fun to watch these stocks get worked up!
Quick reminder: Never trade based on anything you read here.  My opinions are subject to change 30 seconds after writing.