It was only a matter of time.
The recent rally notwithstanding, corporations and their assets denominated in US dollars are lookin' like lunch meat to the European business world and according to a recent study, a wave of mega-mergers is on the way.
The Boston Consultant Group is out with a survey that indicates 1 in 5 European companies is planning to do a deal in 2010, and that percentage jumps to 1 in 2 companies with market caps in excess of €20 billion.
68% of the companies surveyed were pondering "horizontal" deals, meaning mergers within their own industry segment for the purpose of scale and the easing of competition.
BCG broke the results down by industry group (see chart below):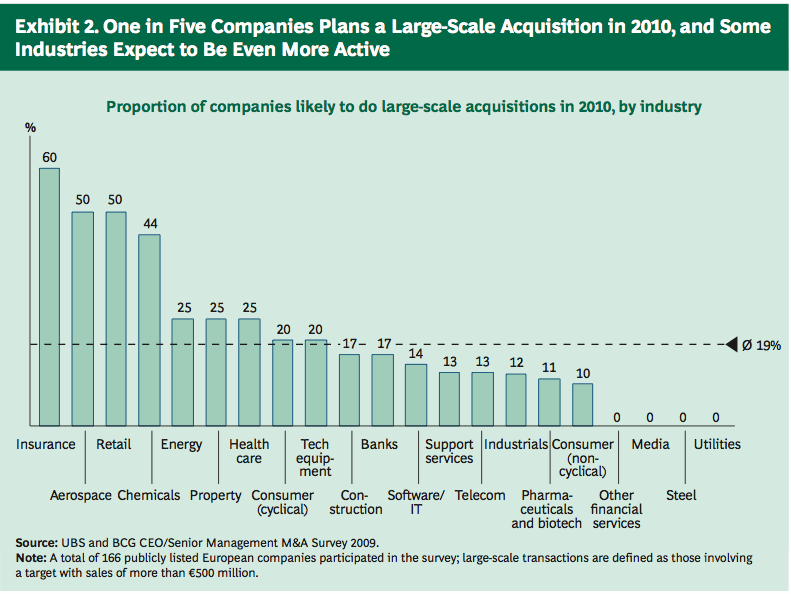 While to be sure, a great many of these deals will take place on the European continent, something tells me that the Kraft/Cadbury game of footsie we're witnessing is only the canary in the coalmine in terms of Transatlantic mergers (although in this case, it's an American company bidding for Euro assets vs Nestle, another European company).
One bright spot for the global economy is the fact that 44% of chemical companies have the urge to merge, as the chemical industry is often seen as a harbinger of economic activity.
Research Recap has the rest of the stats as well as a link to the full report.
Sources:
1 in 5 European Companies Planning M&A Deal in 2010  (Research Recap)