I love stories like these…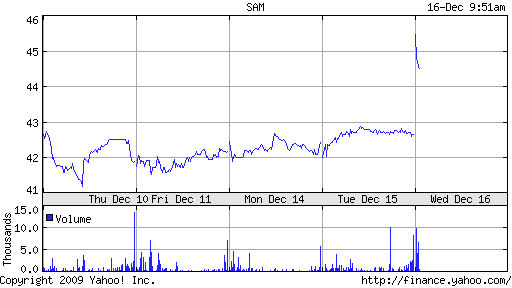 The Boston Beer Company (SAM) raised guidance this morning and I gotta tell ya, I have no stock in the company but I love what I'm seeing.  Here we have a great American brand beset on all sides by foreign competitors (yes, Budweiser is now an import) coming out and absolutely crushing the expectations.
From Reuters:
Boston Beer Co Inc raised its full-year 2009 earnings outlook citing earlier-than-anticipated improvement in brewery operating performance and expectations of favorable energy and commodity costs, sending its shares up 5 percent in after-market trade.

The company, which sells flavored malt beverages under the Twisted Tea brand and cider products under the HardCore Cider brand, projected earnings of $2.05 a share to $2.35 a share, up from its prior view of $1.75 a share to $2.05 a share.

This is the second time in little more than a month that Boston Beer, which makes Samuel Adams beer, has raised its earnings forecast.
After work, I will be picking up a case of Sam Adams Winter Classics.  I might even share it.'
Sources: