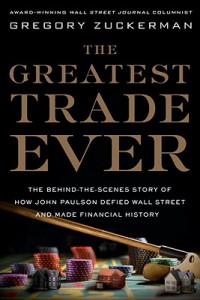 This morning I had the pleasure of attending a hedge fund industry event where the featured speaker was Gregory Zuckerman, the author of The Greatest Trade Ever.
I was one of the few in the audience who had not yet read the book but a lot of what was discussed has already made it's way into Wall Street lore.
Zuckerman's talk was fascinating.  He was one of the few writers who could have told this story given his decade or so at the Wall Street Journal covering the hedge fund industry and some of its more interesting trades.
Here are a few interesting takeaways and insights:
– The two guys at the center of the story, John Paulson and his number two Paolo Pelligrini, were very unlikely heroes in that their backgrounds in the hedge fund industry were as merger/arbitrage specialists.  Paulson hadn't been especially notable in the industry.  In addition, Pelligrini was merely a twice-divorced, out of work banker who was living in a one-bedroom Westchester apartment when Paulson brought him on.
– The way they played the sub prime meltdown beginning in 2006, predominantly by buying credit default swaps, would have been imposible to pull off just a year or so prior.  In addition, the CDS purchases made by Paulson & Co were very low risk because of caps, even the though upside turned out to be astronomical.
– There was some discussion about whether or not everyone following Paulson into his next big trade in gold is indicative of a gold bubble.  Zuckerman did not go so far as to agree, but he did point out that it is difficult to make the case that gold has any true value other than the fact that it always has had value.
– One audience member asked what the odds were of any fund manager being able to follow up the Greatest Trade Ever (like Paulson shorting sub prime) with another home run trade (Paulson's gold bet).  Other than Buffett and Munger, Zuckerman admitted that he was hard pressed to find any examples of this being pulled off.
If you're going to throw a business or trading book on your wishlist this holiday season, this one may be right up your alley.