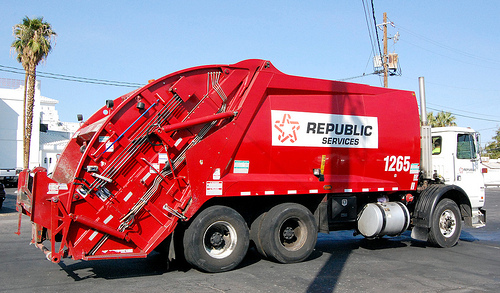 Berkshire Hathaway and Cascade Investments have both just disclosed positions in Republic Services Inc (RSG), the second largest waste disposal company in the US.
Cascade is the investment vehicle that manages Bill Gates' investments exclusively and Berkshire is obviously Buffett's holding company.  We know they're good friends, but this is the first time I've seen them acquiring the same stock at the same time.
Gates has been involved in Republic since prior to the merger with Allied Waste that made the company the number 2 in the industry behind Waste Management (WM).  Its not hard to see why Buffett has joined him, this is a business with long-term contracts with municipalities and they're certainly not approving many new landfills these days for political reasons.  This is right up his alley.
From Bloomberg:
Buffett's company had about 1.28 million shares of Exxon, the world's largest oil company, as of Sept. 30, Omaha, Nebraska-based Berkshire said today in a regulatory filing disclosing U.S. equity investments. Berkshire held 3.4 million American depositary deceipts of Nestle, the world's largest food producer, 3.63 million shares of Republic and about 27,000 shares of New York-based Travelers.
and from 24/7 Wall Street:
If you thought that Bill Gates might have an ambition beyond just passive investing in the garbage and waste disposal sector, you might be correct.  Bill Gates' Cascade Investment, L.L.C. and the Bill & Melinda Gates Foundation Trust own a collective share of about 15% of Republic Services, Inc. (NYSE: RSG).  Republic is the #2 waste management player now that it acquired Allied Waste Industries behind the dominant Waste Management Inc. (NYSE: WM).
I have no idea what these two have planned, but just something to be aware of, I suppose.
Sources:
Buffett's Berkshire Discloses Stakes (Bloomberg)
Bill Gates Gets Further Entrenched in Waste Sector  (24/7 Wall Street)