On my dresser I keep a stack of books that I am either partially finished reading or I intend to read soon. One of these books is James Michener's 'The Source', a novelized account of thousands of years of history taking place in what is now the state of Israel. Michener follows the people of this place and their descendants down through the centuries, culminating in a 20th century battle that solidifies the newly born nation after it's attacked by all of its neighboring countries at once. I read it 25 years ago and I keep meaning to get back to it, but time passes, there's other stuff going on, and, well, you know.
This morning, stock market futures in the United States are negative in light of the horrific events of the weekend, which I will not rehash here. There's always going to be an instinct to take down risk and flee to the safety of cash (or gold) when geopolitical crises pop up. Especially when those crises involve the Middle East, our longstanding ally in the region and the specter of some sort of oil price spike or wave of terrorism. It's a natural reaction and I understand it.
But history says this is not the time to throw away a portfolio of investments.
In July and August of 2014, Israel began a major offensive push into Gaza after three Israeli teenage boys were kidnapped and murdered by Palestinian terrorists. They sent in a ground invasion while disabling the Palestinians' ability to launch rocket attacks on their cities. The tunnels being used to attack Israelis were demolished as were several key sites in which mass murderers were building munitions and planning future operations from. The war went on for a few weeks and thousands were killed as a result.
The S&P 500 fell as the war intensified but as you can see in the chart below, eventually investors got acclimated to the fighting as a backdrop. The effect of this conflict, like so many conflicts before and since, didn't produce a lasting effect on US stocks.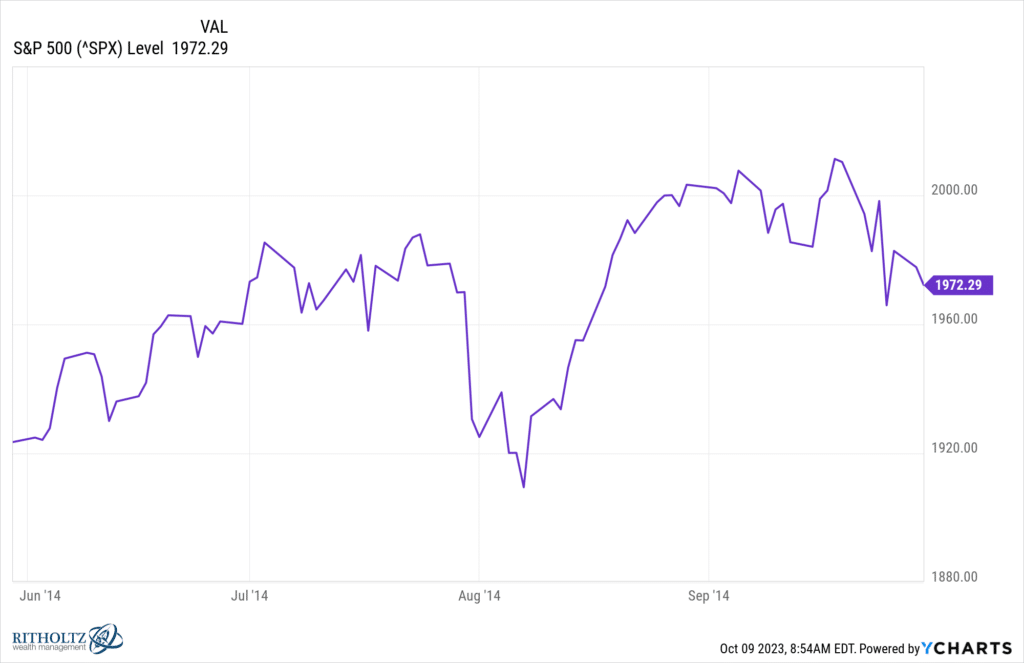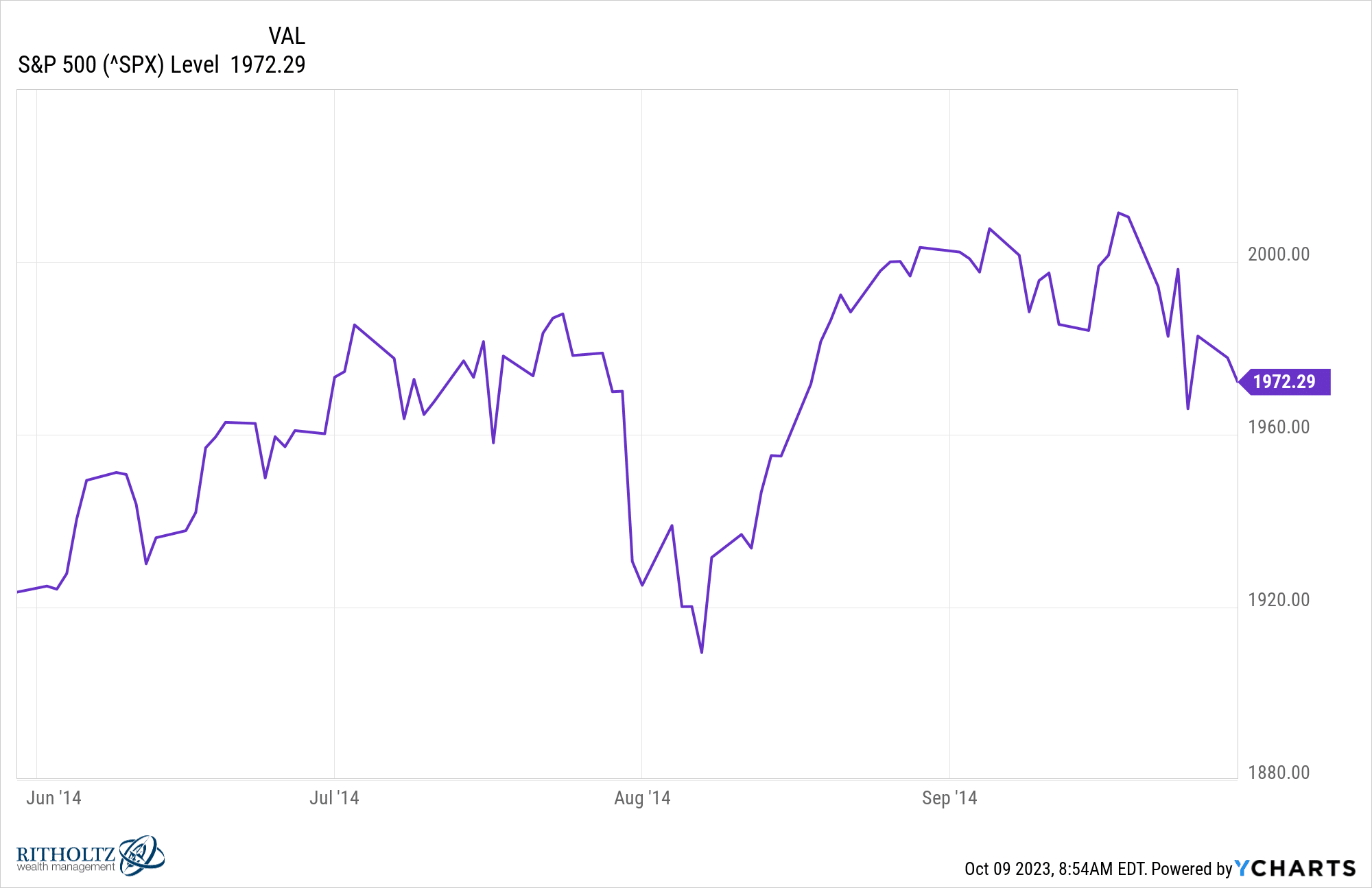 And when you look at the five year period starting with these events, ending in the fall of 2019, you can barely even notice the volatility: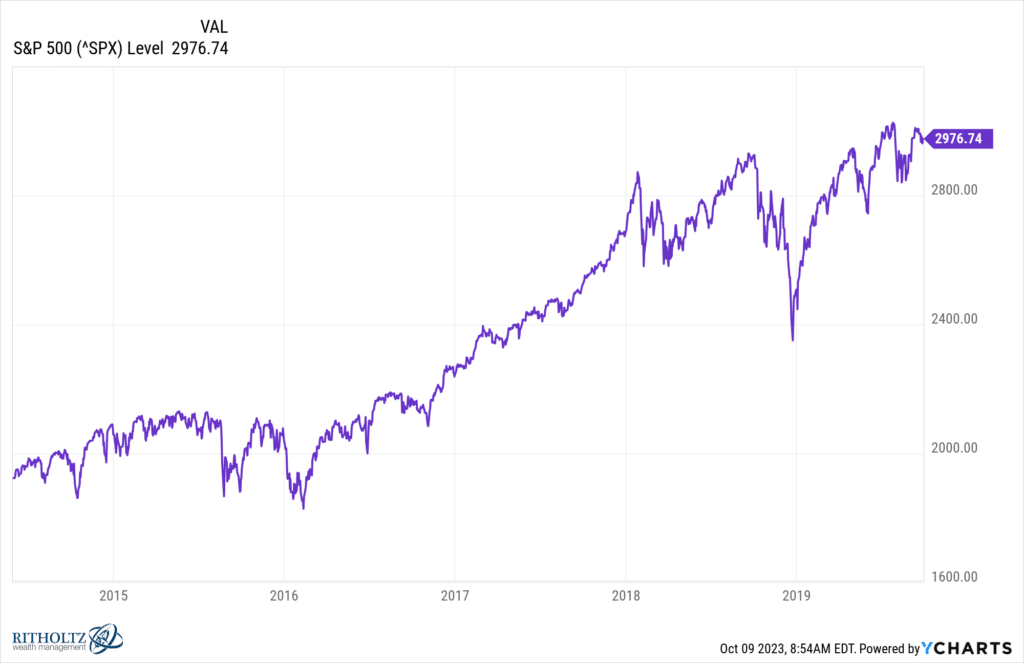 If you're selling US stocks today because you're waiting for a calmer, more peaceful time in the Middle East to buy back in, you'll be waiting for the rest of your life. This is one of the most tragic events we've ever seen, but it is also a part of the status quo, unfortunately. There is a low-level current of violence and reprisal at work here that never sleeps, despite the fact that there can be months at a time when it is not in the headlines. Rocket attacks, suicide bombings, hostage-taking – most of the time we barely even notice it.
There is a painful cycle of revenge, provocation and absolute animal cruelty taking place in this part of the world and it has always been thus. Investing for your own future cannot await its end. Because it will never end. The risks to both the region and the world will be the continuous context in which you invest, now and forever. The volatility emanating from this place will punctuate the years and decades you have ahead of you. And there will be times like these, where the evil is so unthinkable you cannot believe your fellow humans could have the capacity for it. These times will come but they will fade away.
Put portfolio concerns aside today and focus instead on your loved ones. Give them as many hugs and kisses and kind words as you can. It's a much better use of your time.
***
This post is dedicated to all of the families of those affected by this weekend's terror attack and all of the innocent people who will be affected by what happens in the aftermath. The pain and suffering they are going through is unimaginable. Our financial concerns in the immediate present pale in comparison with what they will have to endure long after the rest of us have forgotten about it.