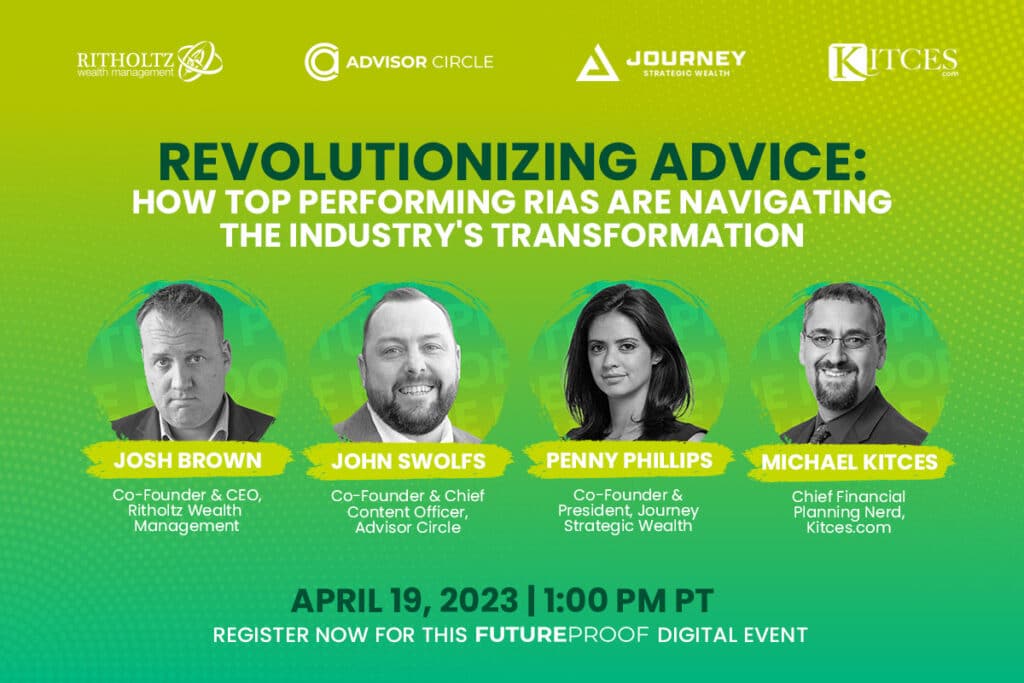 A must-attend event for every RIA owner and practitioner, featuring Michael Kitces, Josh Brown, and Penny Phillips.
Michael Kitces is known as every financial advisor's favorite financial advisor, with Kitces.com serving nearly 3,000 members and his Nerd's Eye View blog reaching more than 200,000 unique visitors monthly. In addition, he serves as Head of Planning Strategy at Buckingham Strategic Wealth, a firm with more than $20B in AUM.
Josh Brown might be his biggest rival in that category, as a regular contributor to CNBC's Fast Money, author of the blog The Reformed Broker (~100k visits/month), co-host of The Compound and Friends show (118K YouTube subscribers), and CEO of Ritholtz Wealth Management, an RIA that grew to more than $3B in AUM organically.
Penny Phillips is co-founder and president of Journey Strategic Wealth, an RIA founded in 2021 that has quickly grown to $2.6B in AUM. Penny has been touted as the first millennial woman to launch a rollup by applying her career knowledge from coaching and consulting financial advisors, business owners, and wealth management institutions.
The advice industry is being revolutionized right before our eyes, and these three speakers are the very best at communicating to financial advisors what is happening, why it's happening, and what the potential impacts are for their firms. The Future Proof digital format is unique in that it highlights each speaker with their own time and then brings them all back together for a live Q&A.
When: Wednesday, April 19th at 1pm PT / 4pm ET
Topic: Revolutionizing Advice: How Top Performing RIAs are Navigating the Industry's Transformation
Guests: Michael Kitces, Josh Brown, and Penny Phillips
Host: John Swolfs, Head of Content for Future Proof Festival
Where: Zoom
CE Credit: CFP® Professionals and IWI designation holders are eligible for 1 CE credit
Save your seat by clicking this link or the button below!