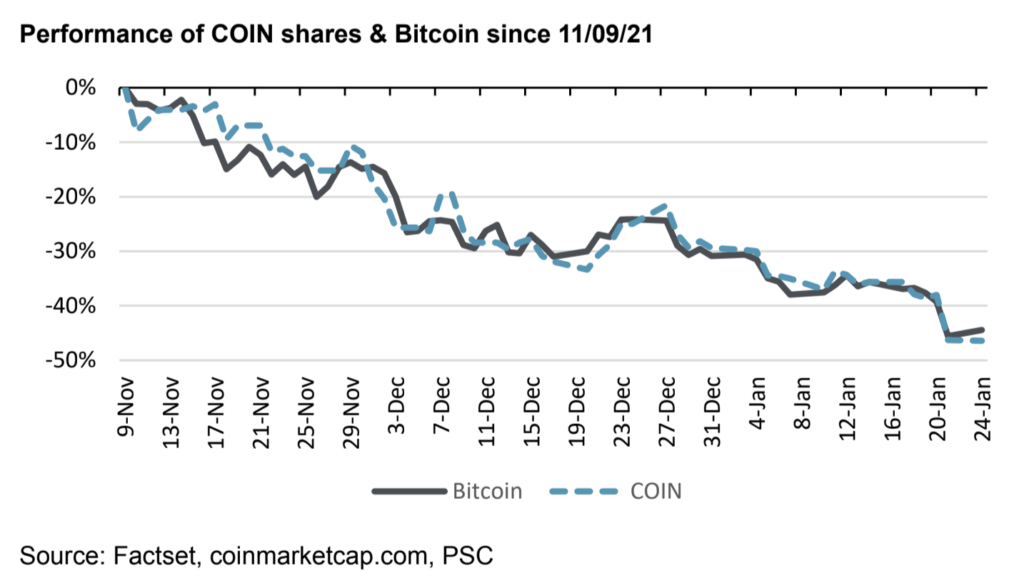 Chart via Piper Sandler's new note on Coinbase. They don't think it's trading as a proxy for Bitcoin but I know it is. Here's their take:
COIN shares have performed in-line with bitcoin since reaching an all-time closing high on 11/9/21. COIN shares and the price of bitcoin (which we use as a proxy for broader cryptocurrency prices) have fallen 46.4% & 45.5%, respectively, since COIN reached a record closing high on 11/9/21. While this is certainly a significant move to the downside, we believe it has more to do with investors pricing in future rate hikes across fintech/growth investments as a whole and less to do with the expected trajectory of cryptocurrency/digital asset adoption.
Anyway, here's my take: There is absolutely no chance that Coinbase works as a stock so long as crypto prices, BTCUSD in particular, remain in a 50% drawdown. And – obviously! – a Bitcoin rally back the highs virtually guarantees a much higher COIN price. It also works the other way – if Coinbase finds itself in a massive regulatory problem, Bitcoin prices will feel that pressure. If there's a big data breach or hacking event for Coinbase, Bitcoin will fall out of fear for the security of crypto in general.
So yes, I understand it's not literally a Bitcoin ETF. But it's close enough, no?
Source:
A Top Pick Among Those Impacted By The Risk Asset Pullback
Piper Sandler – January 25th, 2022